When we want to buy a new beauty product, we do our research first, aka scour the Internet for reviews. But now we're questioning every review we've ever read because of a mind-blowing revelation on the SkincareAddiction Reddit: According to the post, luxury skincare brand Sunday Riley "forces" its employees to write fake reviews on a leading US-based online retailer's site to hype up its products.
The anonymous user, who goes by the name throwawayacctSRiley, wrote, "This is a throwaway account because Sunday Riley is majorly vindictive. I'm sharing this because I'm no longer an employee there and they are one of the most awful places to work...
"We were forced to write fake reviews for our products on an ongoing basis, which came direct from Sunday Riley herself and her Head of Sales. I saved one of those emails to share here."
In the email, the company is asking its employees to write "at least three" reviews for the Saturn Sulfur Acne Treatment Mask and the Space Race Fight Acne, Oil + Pores at Warp Speed Kit to "help generate…confidence in the products."
Continue reading below ↓
Recommended Videos
The email talks about key things the employees need to address in their reviews "like how cooling it felt, the green color, the non-drying mask effect, radiance boosting, got rid of your acne after a couple uses." They also gave tips to make the reviews sound authentic: "It helps to make yourself seem relatable—like you know how hard acne is and you've tried everything, and this one actually works or mention things like yes, it's a little more expensive, but works incredible (sic) well compared to the cheaper masks out there."
You can read the whole email here: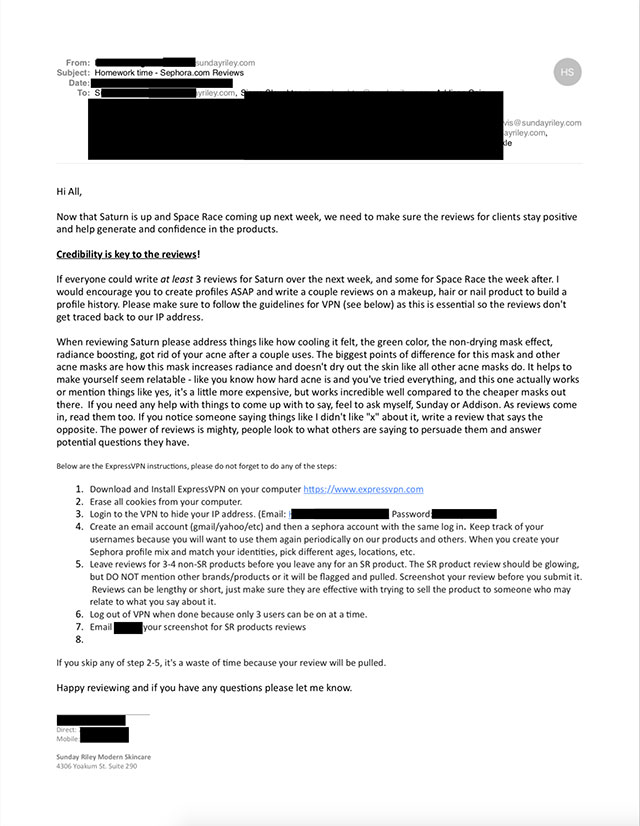 As of writing, the Saturn Sulfur Acne Treatment Mask has a 4.4 star rating and 313 reviews; and the Space Race Fight Acne, Oil + Pores at Warp Speek Kit has a 4.2 star rating and 388 reviews on the beauty e-commerce site .