Walking out the door makeup-free is fine, but without sunscreen? Not OK.
Exposing your skin to the harmful UV rays of the sun leads to cell damage and premature aging. The worst case scenario? Skin cancer—the most common kind of cancer among men and women aged 25-29 in the United States.
According to the Skin Cancer Foundation (SCF), one of the easiest ways to protect yourself is to use a broad spectrum sunscreen. This will shield you from both UVA and UVB rays.
UVA rays—which make up 93% of the UV light spectrum—can cause wrinkles and skin cancer. UVB rays, on the other hand, make up the other 7% of the UV light spectrum. These rays are responsible for giving you tanned skin, but they can also cause skin cancer.
SCF suggests to go for sunscreens with an SPF of at least 15 to protect your skin, but make sure you're using the right kind for your needs.
If you're spending time outdoors, go for spray-on sunscreens because they're easier to apply and reapply. If you're going swimming, make sure that you're using one that's waterproof. Oily skin? Go for water-based sunscreens instead.
Ideally, you should apply your sunscreen at least 30 minutes before you head out. This will give your skin enough time to really absorb the sunscreen. Once you've stepped outside, be sure to keep reapplying every two hours. 
Continue reading below ↓
Recommended Videos
And in case you want our suggestions, check out our picks below: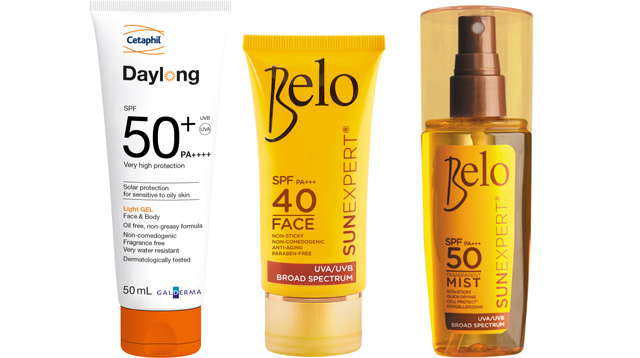 Daylong Gel SPF 50 P620, Belo SunExpert Face Cover SPF40 P329.75, Belo SunExpert Transparent Mist SPF50 P449.75
RELATED:
10 Things You Didn't Know Were Happening While You Were Getting A Tan
Why You Should Still Wear Sunscreen Even If It's Raining