Charcoal—as in uling—is probably the last thing you want anywhere near your face. But if we told you that it can actually do some—well a lot—of good, would you give it a shot?
The key ingredient in the products you've been seeing in stores contain activated charcoal. According to Allure, it is a "carbon that's been treated to increase absorbency." In fact, activated charcoal is so effective in attracting and flushing out toxins, that it's even used for water filters and gas masks!
But going back to skincare, this amazing ingredient can remove dirt and oil almost 200 times better than anything else. That's why so many brands have come up with products that contain charcoal—it can easily give the skin a detox by deep cleaning it.
If you're acne prone or have oily skin, using charcoal masks and cleansers will help unclog your pores, prevent future breakouts, and restore balance to your skin. And we're not just talking about the face here. Soaps infused with charcoal can also help give you glowing skin, because it can get rid of any impurities you acquire throughout the day. And did you know that charcoal has teeth-whitening properties, too? Pretty cool, huh?
Here, some charcoal-infused products that you should definitely try: 
Continue reading below ↓
Recommended Videos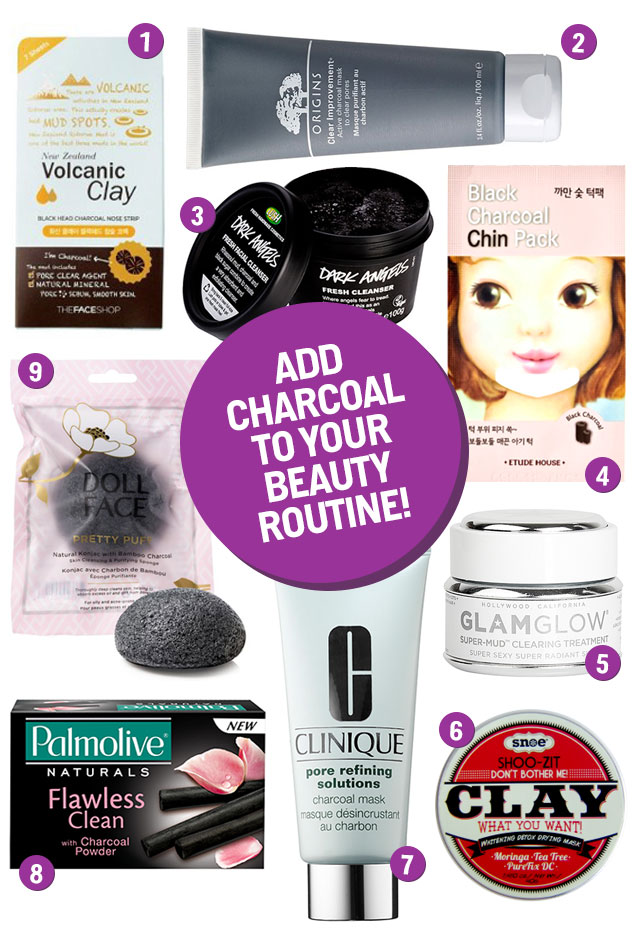 1. The Faceshop Volcanic Clay Black Head Charcoal Nose Strip; 2. Origins Clear Improvement Active Charcoal Mask; 3. Lush Dark Angels Fresh Cleanser; 4. Etude House Black Charcoal Chin Pack; 5. Glam Glow Super-Mud Clearing Treatment; 6. Snoe Shoo-zit Don't Bother Me! Clay What You Want Whitening Detox Drying Max; 7. Clinique Pore Refining Solutions Charcoal Mask, 8. Palmolive Naturals Flawless Clean with Charcoal Powder; 9. Doll Face Pretty Puff Natural Konjac with Bamboo Charcoal.
Follow Retty on Twitter.