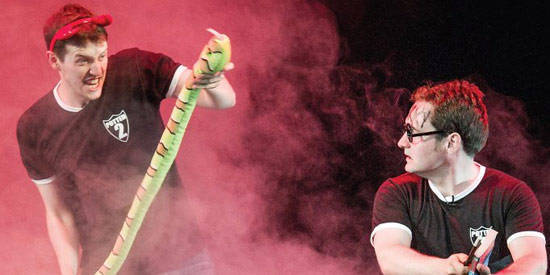 This 2013, the RCBC auditorium was again the venue for Potted Potter, the unauthorized Harry Potter parody crafted by creators Daniel Clarkson and Jefferson Turner that is surely setting high standards for parodies everywhere else. It claims to provide theatergoers the chance to go through all seven Harry Potter books in a mind-boggling 70 minutes.

The reason for its return is because Filipino audiences simply couldn't get enough of Potter Potter when it first came to Manila as part of its world tour. Having Gary Trainor as Harry Potter and Jesse Briton as all the other characters in the books proved to be very interesting for audience members. The two actors, both seasoned theater performers, deliver really well in giving everyone lots to laugh about.

Like their last run, they incorporated local culture and punch lines into the material, referencing Ateneo, Eraserheads, EDSA, and more which proved to be real crowd pleasers.

Audience involvement also accounts for a lot of the spontaneity in this 70-minute parody, because both actors need to adjust major parts of their telling of book four to account for audience participation. The biggest chunk of this happens when the actors ask the audience to serve as members of opposing Quidditch teams.

"When we started doing the Quidditch part and others with an audience, we were scared, but then we started to enjoy it, and we have to thank the audience for their interaction because the audience here in Manila have genuinely been the best," explains Jesse. He goes on to say that this is the truth and not just because he is in Manila saying these good things about the Filipino audience.

For the full story, visit Pep.ph.
ADVERTISMENT - CONTINUE READING BELOW ↓
ADVERTISMENT - CONTINUE READING BELOW ↓
Recommended Videos
EXPLORE COSMO