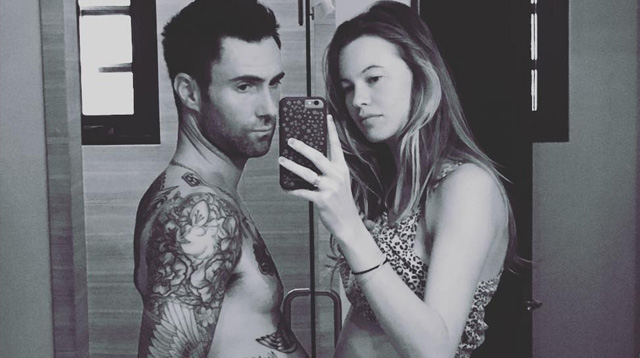 Instagram/adamlevine
Adam Levine compared "baby bumps" with wife Behati Prinsloo in a hilarious Instagram selfie.
The Maroon 5 frontman is expecting his first child, a daughter, with 26-year-old supermodel Behati. And it seems Adam, 37, is undergoing a similar body transformation to his pregnant wife.
On Tuesday, Adam posted a snap showing him pushing out his stomach as Behati showed off her growing bump to mark the 20th week of her pregnancy.
"Week 20 and I'm finally popping! #impregnanttoo," Adam captioned the picture.
In the picture, Behati poses in a pair of underwear and rolled up top, while Adam shows off his tattooed torso in a pair of black pants.
The snap comes just weeks after Adam revealed he had been "eating a lot of stuff" during Behati's pregnancy so far.
"She's eating a lot of watermelon, a lot of watermelon," Adam said of his wife's cravings during an appearance on The Tonight Show Starring Jimmy Fallon last month. "Because, you know, they get random cravings for stuff and it's just like, so much watermelon!"
However, Adam added that Behati hasn't just stuck to healthy snacks as she's a big fan of ice cream, and in a show of solidarity, he also began eating more food alongside his wife.
Adam confirmed he was going to be a father on Instagram in April by sharing a picture of Behati sunbathing in a two-piece bikini, with a small bump on display.
He said being a parent had always been part of his plan and he cannot wait to meet his child, thought to be a little girl. He recently told ETOnline.com, "I'm ready to be a dad. You're born to be a parent, that's what we're here for, really. All the other s**t is great, but it's not what we're here for."