Akihiro Sato
made quite a splash with his Cosmo Centerfold debut in 2008—the steamy sight of the Brazilian-Japanese (Brapanese) model posing naked in a bathtub for last year's Cosmo Men supplement instantly earned him legions of Filipina fans. And since we know you love him so much, Cosmo went ahead and brought you Aki for yet another stint as Centerfold--capturing hearts not just in the supplement but in the most sizzling Cosmo event of the year, the Bachelor Bash.
Still can't get enough of Aki? There's much you can expect from this sexily adorable stud. The aspiring actor already began the year with a role in an indie film,
Handumanan,
with Chin-Chin Gutierrez and Jason Abalos. Now, he shows his singing prowess weekly in GMA-7's
Celebrity Duets
Season 3
(the same reality show that fellow Centerfold Phil Younghusband was part of last season).
Get to know Aki even more in his chat with Cosmo about work, life, and dating!
How old were you when you started modeling?
I was 15.
Is there anything you wish you had done, had you not started modeling early?
A lot of things. But [what I regret] the most is I didn't finish my course in my university. I was [taking up] Physical Therapy then I had to stop in the middle of the course [because of] modeling. Right now [my] priority is my career in modeling. This year I'm going to do some acting roles maybe.
Do you know how to speak Tagalog already?
Mahirap! Pero pwede na.
I can understand, but
'intindihan ko konti lang.
Tagalog
ko, medyo lang.
Tell us about your acting debut in the indie film Handumanan.
[It was] a lot of fun! Exciting. In the beginning, on your first movie, you don't expect so much in your acting because you know this is your first. This is where you learn more, and on the next, you get better.
Do you plan to do more acting while you're here?
Yes. In the Philippines you cannot do just acting. You have to be [an]
artista
. You have to know how to sing, how to dance.
[nextpage]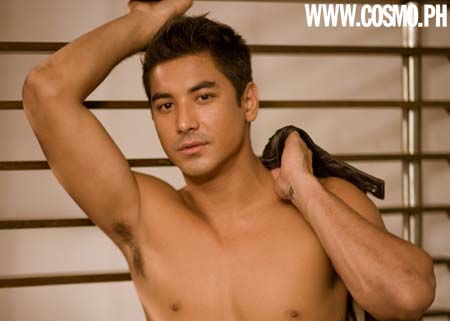 Are you also training to sing and dance?
Yes. I have to practice. But I'm not a very good singer.
Would you consider yourself a playboy?
No.
You're a one-woman man?
Yeah. One in each country! (laughs)
Are you actively looking for a partner?
Of course I look, but right now I'm not really crazy about [finding someone], because I think about my work now. I focus on what I do right now.
Have you dated any Filipinas?
No.
Why?
Last year I just broke up with my ex-girlfriend, and from then I just started to just think about work.
But you are open to dating?
Of course. Please!
Listen in as Aki talks about his tattoos, his 2008 Bachelor Bash experience, and what he thinks of Filipinas in this CosmoTV exclusive!
Photo by Dr. Marlon Pecjo
73
Continue reading below ↓
Recommended Videos