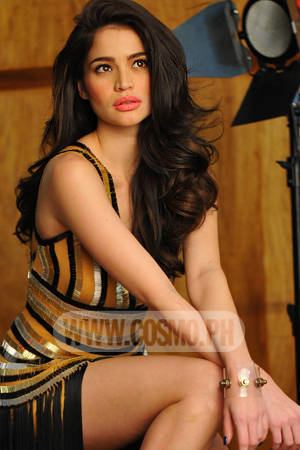 In this month dedicated to all things Fun and Fearless, one woman stands out from the rest. Heading our roster of Fun, Fearless Females for 2012 is May 2012 cover girl Anne Curtis, who is also celebrating her 15th year in showbiz this month. Last year, we presented her with the Ace Actress award, but this year she has outdone herself and achieved certified Superstar status.

Editorial director Myrza Sison explains why we chose Anne for the cover of our 15th anniversary issue: "Anne is the biggest star there is right now...Everywhere you look, there she is. She's on the backs of buses, on billboards, [and] in every TV commercial and print ad that you see. She's clearly at the top of her game. She's also our all-time cover girl record holder [with] a total of six covers for Cosmo. I was there when she shot her very first cover, and she's come a long way since then."

Long-time collaborator and photographer Mark Nicdao descibes what it's like working with the Annebisyosa: "When you shoot with Anne, she would just waltz in and make things different. I think she's a chameleon--you can do a thousand things with her. She loves being photographed. She pushes herself so much to the fullest [to make sure] each photograph is going to be special. She's amazing, she's a professional, she's always on time. The sunshine that she brings in photo shoots is just priceless."

We've already given you a peek at some of our behind-the-scenes photos from Anne's shoot, but you can see even more exclusive photos when you launch the gallery!


Grab a copy of the May 2012 15th anniversary issue of Cosmopolitan Magazine with ANNE CURTIS on the cover, in stands NOW! Be sure to also check out the video footage and wardrobe options from the shoot, and Anne's third What's In My Bag feature!
Continue reading below ↓
Recommended Videos
1965