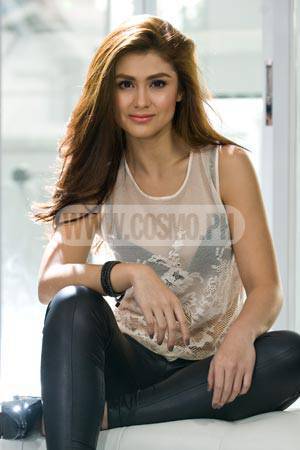 Carla Abellana started off as an "it" girl, and went straight to the top of the showbiz industry. In just two short years since her Cosmo debut, Carla has taken on challenging roles and received various recognition for her convincing performances. Whether she's the leading lady, the host, or the guest of a program, she's sure to steal the scene with her talent, beauty, charm, and conviction.

With so much buzz surrounding her film My Neighbor's Wife, which also stars Lovi Poe, Jake Cuenca, and Dennis Trillo, we thought it was the perfect time to bring Carla back as our cover girl. We also wanted to catch up with her on what's been going on in her life in the past couple of years.

Editorial director Myrza Sison explains, "Carla is definitely the Cosmo girl of the moment. She's definitely fun [and] fearless--as she demonstrated in recent events where she very confidently and fearlessly spoke her mind." The incident Myrza referred to is proof of how well Carla has adapted to showbiz life; she doesn't let criticism bring her down.

Despite everything she has achieved and her current showbiz status, she has no diva airs about her. During her photo shoot at the Edge of Light Studios in Quezon City, she was friendly and approachable toward the whole team. Myrza says, "She was a dream to work with. [She's] very professional and she followed instructions well. She really, I think...embodied the spirit of a Cosmo girl."

Photographer Xander Angeles adds that Carla has a certain alluring quality that reels people in: "She has this aura na very light, very nakakahawa. Her smile is so captivating." It's no wonder the public is enamored with Carla--we most certainly are, too!

See what Xander means when you launch the gallery, which gives you a complete behind-the-scenes look at Carla's cover shoot (a glimpse of which you've seen on the video), from the hair and makeup process right down to her interview with Cosmo.ph. Watch for her video interview on CosmoTV soon!


Grab a copy of Cosmopolitan Philippines' November 2011 issue with Carla Abellana on the cover to read her exclusive feature entitled "Bolder And Braver Than Ever" (flip to pp. 28-32)! View the e-magazine teaser here!

1616
Continue reading below ↓
Recommended Videos