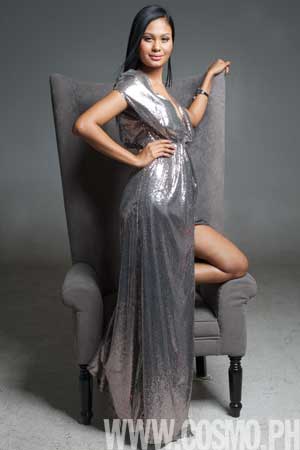 Cosmo magazine has been empowering fun, fearless Filipino females for the past 14 years, and for our anniversary month, we wanted to nab someone extra special to grace the cover of our magazine. Who better to feature as we celebrate all these years of motivating Filipinas than the ethereal and inspirational Bb. Pilipinas herself, Venus Raj?

Editor-in-chief Zo Aguila explains the decision, saying, "We saw Venus as this day's inspiration. A lot of women look up to her. And I think she was able to bring back the interest of people for pageants, for looking great, and for loving your skin color."

In addition to re-energizing beauty competitions locally, she was also able to represent the country abroad, both during and after the Miss Universe competition. Zo says, "She was able to revive so many things in the Pinay. That's why we wanted to put her on the cover of Cosmo, because not only was she able to help Pinays love being themselves, she was also able to fearlessly tell the world and show the world how beautiful the Pinay is."

We met up with the statuesque 22-year-old Venus at the studio of photographer BJ Pascual for the cover shoot. Having been photographed so many times as she gained global prominence, Venus was a total pro during her shoot. Her easygoing personality enlivened the Cosmo team as we glammed her up. BJ says, "She was very pleasant to work with—she's very professional. She loves the camera, and the camera loves her also."

Art director Red de Leon explains that "the entire concept for the Fun, Fearless Female [shoot] is all about glamour—something fun and celebratory. We wanted something really bright and shiny, and that's why we picked silver as the color." Venus really shined in all the outfits we had at the studio, and her stand-out beauty was the perfect choice to lead our celebration of Fun, Fearless Females this anniversary month.

Click on the button below to see behind-the-scenes photos of Venus's cover shoot. Watch a video of her shoot here on CosmoTV!

Pick up a copy of Cosmo's May 2011 issue to read all about Venus's rise to the top (and how, even though there's a new queen, she's still a Radiant Rising Star)!
Continue reading below ↓
Recommended Videos
1138