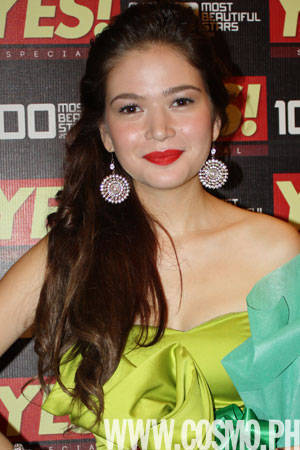 With her mestiza looks and charming personality, Bela Padilla has literally made a name for herself in the showbiz industry. The Fil-Brit actress (formerly known by her real name, Krista Valle) has proven herself more than just the latest celeb in the Padilla clan. After her big break in Endless Love—and the controversies behind the scenes—it seems that everyone is keeping an eye out for her next move.

Judging by her looks alone, it's easy to see why she is considered one of the hottest young starlets today. But, aside from her looks, Bela's personality is her best quality, as we found out for ourselves when we interviewed her at the Crowne Plaza Hotel for Cosmo's sister publication YES! Magazine's 100 Most Beautiful Stars press conference. The 21-year-old, who was named one of the year's "Breakthrough Beauties," spoke to Cosmo about her idea of inner beauty and gave helpful tips on looking your best.

What are your top three beauty tips?

Drink a lot of water. Feel beautiful from morning until night—I think that helps a lot. And don't hold grudges, like negative feelings. When you're bad trip, that really comes out in your face, so just be positive. I think that's the best beauty tip I can give.

What are your tips for staying fit and healthy?

I go to the gym a lot. I think you can use 'yung mga fast procedures like—well, it's effective—liposuction and stuff. But, you have to change your entire lifestyle if you really want to stay fit. A good tip is to drink apple cider vinegar in the morning. It kind of makes you lose your appetite, so I do that. And if you can, get at least eight hours of sleep talaga.

Who's the most beautiful person in your life?

Me! (Laughs.) The most beautiful person in my life? I think right now, my little niece, Georgie. She's really cute and she's turning 1 next month. She's my first niece, so for me, it's her. She's so cute kasi, when you see her she makes you smile.

What qualities do you think make a person beautiful?

You know, I really believe that your face, it fades. Ten years from now, I won't look like this. But if you invest, like start being a kind person today, eventually you'll be an even better person. So that's the kind of beauty that grows. For me, to be a beautiful person, first you must be a nice person.

What has been the most beautiful moment in your life?

I think it's not just one moment, e. You can't have that one life defining moment. But I think it's the times when I get to really enjoy my work. I'm happiest when I'm at taping because I really enjoy the process of acting, so I think those moments for me are those that I'll remember when I grow up. Like when [I] have kids na...you know, I think this is the story I would tell: One day I was an artista.


Launch the gallery to see Bela at the YES! Magazine press conference!
Continue reading below ↓
Recommended Videos
1427