Ben&Ben knows exactly how to hit you right in the feels with their music. And as it turns out, you can make money from your feelings! Or at least, that's what a new study points to. "Kathang Isip" by the nine-piece band is Spotify Philippines' most valuable song, according to a study by Australian finance company S Money. Using data from February 2021, the company pegged the song's global revenue at US $731,574.98 or around P35 million.
"Kathang Isip" by Ben&Ben proves you can make money out of emotions. Tell your parents.
TBH, with lyrics like "Ako'y gigising na sa panaginip kong ito / At sa wakas ay kusang lalayo sa iyo," we're not surprised that people can't get enough of this bittersweet track. It's the perfect crying session soundtrack; don't judge us.
S Money took the most-streamed song in every country by an artist from their respective country; they then multiplied the number of streams by US $0.0049 (the estimate payout per stream) to get their data. 
"Kathang Isip" was streamed 130,489,805 times in the Philippines alone, raking in US $639,400, or around P31 million. And with Ben&Ben being Spotify PH's most-streamed artist of 2020, we're sure this won't be their last streaming record anytime soon.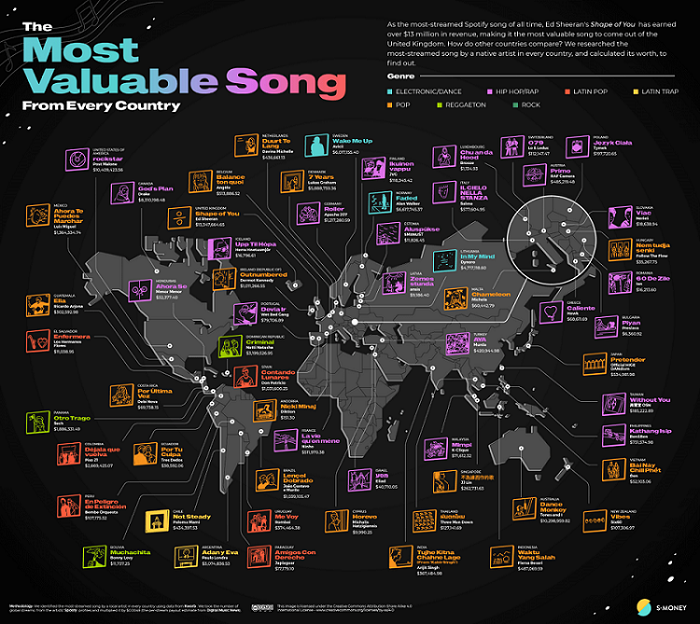 Unsurprisingly, at the top of the list of most valuable songs is Ed Sheeran's 2017 banger "Shape Of You." It raked in US $13,347,665 or around P639 million. Yup, from one song.
Continue reading below ↓
Recommended Videos
EXPLORE COSMO