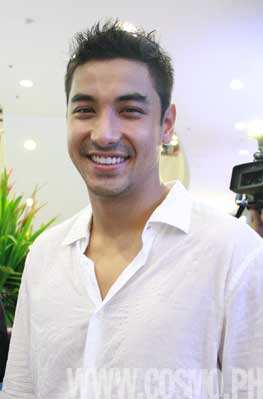 This was definitely a great year for Brazilian-Japanese hottie Akihiro Sato. Just last Friday, December 3, he took primetime reality TV fans by storm when he emerged as the First Celebrity Sole Survivor. But before he even joined GMA-7's Survivor Philippines: Celebrity Showdown, he was already a winner in the hearts of many Cosmo chicks. Not only was he a two-time Celebrity Centerfold (2008 and 2009), he also graced the pages of our magazine in January this year as Cosmo's Man On Fire. We here at Cosmo knew that his career would take off real soon.

On December 1, a few days before the show's finale, Cosmo spotted Akihiro at the star-studded opening of Caffe Ti Amo in Greenbelt 5. We were so kilig to see him again, especially when we heard the excitement in his voice when he greeted us: "Kumusta na kayo?"

We know that you miss seeing him in Cosmo. So, as a treat for all of you who can't get enough of this handsome hunk (even if he's often seen in just his undies on Survivor), we grabbed the opportunity to chat with him for you. He gladly obliged, telling us about his upcoming project, his plans for the holidays, his love life, and his wishes for the coming year. Don't forget to click on the button after the interview to view his gallery of photos from the Caffe Ti Amo event!


What's the best lesson you learned from Survivor?

I learned to appreciate life more. Sometimes [even if] you don't have so many things, you don't really need so much to have a good life.

What do you plan to do after Survivor?

My next project is coming out. [It's a] soap opera in GMA. And also this year, I will stay here [in the Philippines] for Christmas.

What soap opera is this?

It's Captain Barbell. (Laughs.)

What role will you play?

[I'm] not sure about my role [yet] because I haven't spoken with my manager about it.

What are your plans for Christmas?

[I will] stay here. I don't know [what exactly I'll do yet], but I will talk to my friends and [we'll] see where we'll spend [Christmas]. Maybe Boracay.

Have you ever spent Christmas here in the Philippines?

No, it will be my first time [away] from my home. That's why I'm also excited. But at the same time [it's] a little bit sad because I will not [be] with my family. Okay naman, [I'm looking forward to] experiencing [Christmas here for the] first time.
Continue reading below ↓
Recommended Videos

How do you usually spend Christmas in Brazil?

Pareho rin. Like, we are Catholic also, so [we celebrate Christmas] the same way. Like, we eat a lot. (Laughs.) We stay with family and friends. And eat a lot of lechon! (Laughs.)

How's your love life?

Masaya, masaya. (Laughs.) I have a lot of [spare] time [now that I] got back from the island. So now I spend more time with her, my girlfriend. Okay naman.

Do you have any resolutions or wishes for 2011?

I wish a lot of peace for the world and [for] everyone's wishes to come true. (Smiles.)
847