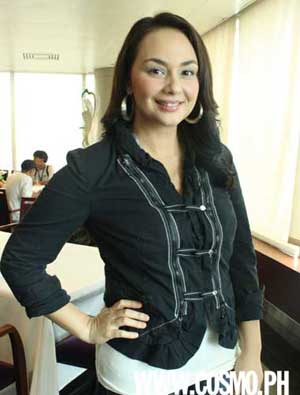 We could hardly believe it ourselves when we realized it's been more than 11 years since Donita Rose first graced the cover of Cosmo as our first ever Pinay cover girl. She looks as fresh and gorgeous as ever, and her bubbly personality remains unchanged. This time, however, she boasts of more wisdom and experience gained from several years in show business--and she now uses this to mentor her younger showbiz peers like Venus Raj.

We wanted to know how she's doing, so we caught up with her at the press conference for the revamped ABS-CBN morning show Umagang Kay Ganda, where she is a regular host. Read our interview, and check out photos from the event by launching the gallery.

How do you manage to look so fresh so early in the morning?

I'm sorry, I was born like this! (Laughs.) Mayabang talaga ako. (Laughs.) Ako, I really get my hands dirty in a sense na when I go out, or if I'm in the studio, my job isn't just what you see on air. My job is to really be with the audience. Like pinagpapawisan na talaga ako, pero kahit pagod ako dapat fresh ako, parang rose! Actually, believe it or not, ngarag ako [ngayon].

You've been hosting for a long time now. How is it working with your younger peers in the show?

I know kanya-kanyang style 'yan. Like kanina I asked Venus [Raj], "Okay lang ba sa'yo na ire-rehearse natin itong segment kasi first time natin together. And then she goes "Yeah, yeah, yeah." E kasi 'pag iba, they want to do it impromptu, while other people might think you're directing them too much. Kasi me, I like to rehearse everything. If not, I'll rehearse it in my mind, although on air, it looks like puro ad lib, puro kalokohan.

Will you be having a segment with Venus?

I'm not sure what's gonna happen kasi baka mag-e-experiment pa sila. Baka maghalo sila ng segments, merong isa, 'yung "Barangay Bida," where we will be featuring different barangays in Metro Manila.

Which do you prefer: taping in the studio or on location?

I like variety. But if it's the same thing over and over again, I really don't mind.

Click the button below to view the gallery.
Continue reading below ↓
Recommended Videos
982