*August 9, 2021 Update* 
Catriona Gray's agency, Cornerstone Entertainment, has released a statement regarding the Nas Daily and Apo Whang-od controversy. Cornerstone said that the beauty queen and Nas Academy have agreed to stop accepting new applicants for the Catriona Gray Academy until the issue is resolved. You can read the full announcement below: 
*** 
Netizens are urging Catriona Gray to take a stand on the whole controversy surrounding Nas Academy and traditional tattoo artist, Apo Whang-od.
On August 3, Tuesday, Catriona took to IG to celebrate the launch of her course on Nas Academy, an online learning platform founded by Palestinian-Israeli vlogger Nuseir Yassin, aka Nas of Nas Daily. Other Filipino creators to be featured on the website include Erwan Heussaff, Jason Magbanua, Jessica Soho, and Moira Dela Torre.
Continue reading below ↓
Recommended Videos
"Late post, but still on a high from the #CatrionaGrayAcademy #BeAQueen @nasacademy LAUNCH party last Saturday with almost 600 of you from all around the world! By far the biggest zoom party I've ever attended! Thanks to everyone who came and partied with us. My course is now LIVE on the nasacademy.com website."
Through the course, entitled "How To Be A Queen," Catriona shares tips such as building self-confidence, preparing for presentations, and handling criticism. 
Another Filipino creator featured on the Nas Academy website was Whang-od. The advertised masterclass was entitled, "Art Of Ancient Tattooing." On August 4, Whang-od's grandniece Grace Palicas said on social media that her grandmother had not signed any contract to have a course on the platform. Grace also said it was a form of profiteering, "exploiting our art and culture," and disrespecting the legacy of Whang-od and the Butbut Tribe of Kalinga.
In response, Nas released a video showing Whang-od signing a contract with her thumbmark to signify her consent to the course. He said that for every sale of the Whang-od Academy, a large portion of it goes to Whang-od and her family. Nas added that Whang-od's class has since been "temporarily" taken down from the Nas Academy website, while the issue—which reportedly stemmed from "online falsehoods"—is resolved.
"Whang Od Academy is not real," Grace reacted. "I spoke to her and she said she did not understand what the translators were saying. Am sorry to tell you she will not be joining the @nasdaily." 
Netizens left comments on Catriona's post, asking her to address the issue and to back out of Nas Academy.
"We're waiting for a statement from you, @catriona_gray," one netizen wrote.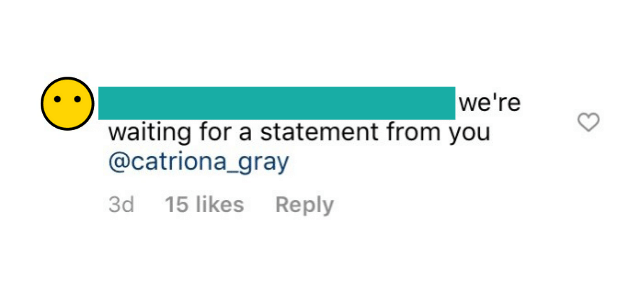 "@catriona_gray put up your own academy," another netizen commented. "You can do it, not with @nasacdaemy."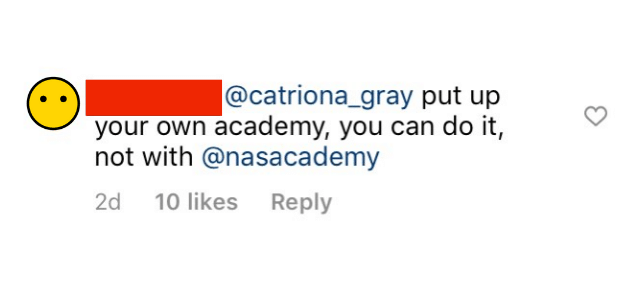 "Take a stand on the Apo Whang-od issue," another netizen urged.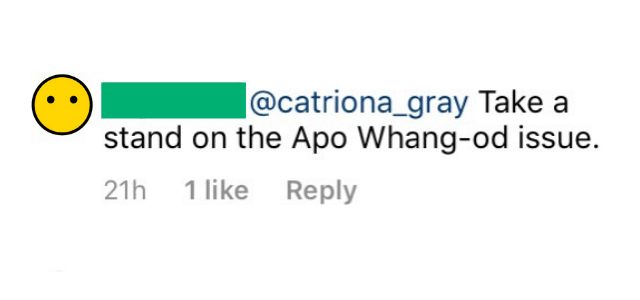 As of this writing, Catriona has not yet spoken publicly about the Nas Academy-Whang-od issue.