Chie Filomeno attended the ABS-CBN Ball last Saturday looking ~gorgeous~ with her multiple ear piercings while wearing a Boom Sason gown. The celebrity, who recently got involved in a car-racing accident, posted photos of the star-studded night on her Instagram account.    

ADVERTISMENT - CONTINUE READING BELOW ↓
In one of Chie's posts, someone commented that her photo was retouched: "Edited na ito, yung raw pic kita talaga ang buto-buto pang bulalo."
Chie replied that the photo was not edited, and she even joked that bulalo sounded ~masarap~. She also said, "Stop already! Body shaming is not okay! It's never an option! I hope whatever you're going through now, sana malagpasan mo para maging masaya ka naman at hindi ka manlait."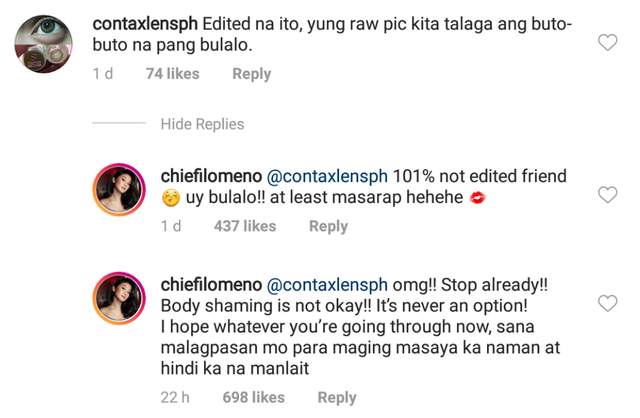 Chie later tweeted a photo with the following text:
"We live in a society that demands so much from us, you have to be this, you have to be that. Well in fact, you just have to be YOU! You do you! How sad that there are so many cruel people in this amazing universe, and that some girls are bringing each other down when we should be the one lifting each other up. Body shaming is not okay, it'll never be okay. Not ever. Fat or skinny, may it be a woman or a man. It needs to stop. Everyone is beautiful in their own skin, don't let them tell you otherwise. Stop talking about fat or skinny women or men like their bodies are a tragedy. Their bodies are beautiful. Every body is beautiful. We are all beautiful! Nobody is ever a tragedy. And don't ever let anyone shame you for being you."  
ADVERTISMENT - CONTINUE READING BELOW ↓
Follow Lily on Instagram.