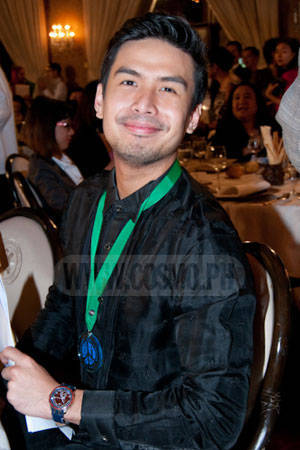 What do you get when you combine good looks, a set of golden pipes, and acting smarts? You get someone like Christian Bautista, of course. The singing idol, with his velvety balladeer voice, has won the hearts of women not just in the Philippines, but also in Singapore, Malaysia, Thailand, and Indonesia.

Christian is currently working on the new season of Kitchen Musical, co-starring Showtime host Karylle. We caught up with him during the launch of the "I Am For Peace" campaign in Malacañang, where he talks to us about his style personality and being one of the country's newest advocates for peace. Read our exclusive interview with him below!

How does it feel to be a peace ambassador?

This is what I've been dreaming of. This is one of my goals, to be a good role model and to be recognized as one; to be a peace ambassador. It feels good. Even if I am not perfect, and I have done so many wrong things in my life, somehow, the good overweighs the bad. And to be chosen as one of the peace ambassadors is such a good feeling. And I don't want to stop by being just a social media ambassador. If they would like me to go personally to Mindanao, and give encouragement? Why not? I'd be glad to go.

What's your personal style like?

My personal style is very simple. It depends on the occasion. 'Pag nasa bahay lang ako, it's shirt and jeans. When I go to formal places like this, it's the barong. When I go to the mall, medyo collared shirt and jeans, casual lang. Casual, relaxed, but a little bit of uniqueness, a little bit of color. Mas neutrals ako eh--I'm not the loud type. Neutral with a hint of color. That's me.

Do you like shopping for your own clothes?

I usually let my stylists or the people in my management get them. Do I love it? As a guy, I appreciate it. Hindi talaga ako 'yung shopper type. Pero I appreciate fashion, what's new, what's in.
Continue reading below ↓
Recommended Videos