The hype is as real as it gets—cinemas in the South and malls all around the Metro have announced that they'll be having 24-hour screenings of Avengers: Endgame. But in case you want to be the very first one to watch the three-hour long movie, we've listed down the cinemas in Manila that'll be showing the action-packed flick on April 24 at 6 a.m. (or, well, 6:01 a.m. to be exact.) So, if you've got work at 9 a.m. you might already want to give your boss a heads up that you're gonna be a bit late that day.
Here are the cinemas in Metro Manila where you can catch Avengers: Endgame as early as possible:
Vista Cinemas
If you're coming from the South, Vista Mall Taguig and Evia Lifestyle Center (that has Southeast Asia's first IMAX Theater with Laser) near Alabang are your best bets for your superhero fix. They'll be screening the movie for 24 hours until April 28, starting with 6:01 a.m. screenings on April 24.
ADVERTISMENT - CONTINUE READING BELOW ↓
SM Cinemas
SM Cinemas will be blocking off all of their 333 cinemas in their 64 branches for Avengers: Endgame so you're sure to get a seat. Based on their website, the malls with 6:01 a.m. screenings are SM Aura in BGC, SM MOA in Pasay, SM Megamall in Mandaluyong, and SM North EDSA in Quezon City.
Fisher Mall
Fisher Mall Quezon Avenue is screening Avengers: Endgame from April 24 to May 1 for 24 hours—and they're having their first screening on the 24th at 6:01 a.m. It's the perfect place to catch the movie if you're coming from the West side of the Metro since this mall is conveniently situated in between Quezon City and Manila. 
Power Plant Cinemas
If you want to feel like a VIP while watching Avengers: Endgame (it is, after all, a three-hour movie), you might want to watch in Power Plant Mall in Makati. They'll be having 6:01 a.m. screenings at Cinema 7 (P380) and VIP Cinema 8 (P550) on April 24.
On the other hand, if you want to go somewhere more secluded and quiet, the new cinemas in Santolan Town Plaza in San Juan should be your go-to. You can already book tickets and select your seats for Power Plant Cinemas online.
ADVERTISMENT - CONTINUE READING BELOW ↓
Eastwood Cinemas, Uptown Cinemas, and Newport Cinemas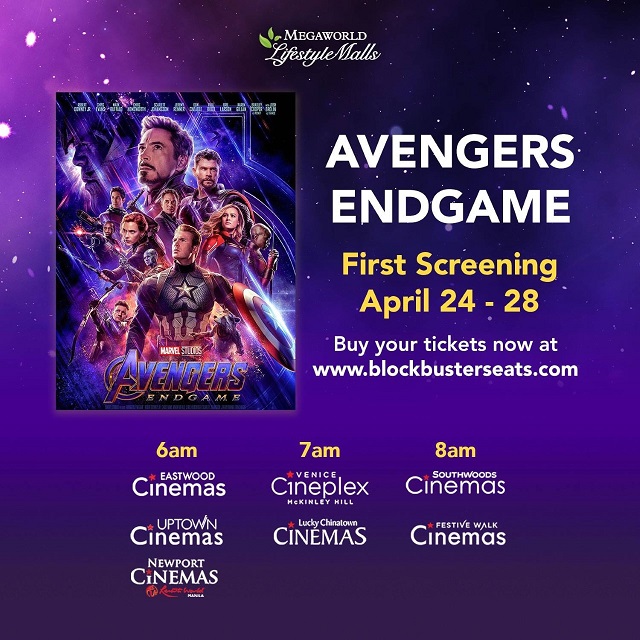 The cinemas of Megaworld Lifestyle Malls will be having 24-hour screenings of the movie as well. But if you want to catch it as early as possible, their cinemas at Eastwood Mall, Uptown Mall, and Newport Mall will have screenings as early as 6 a.m. Venice Cineplex and Lucky Chinatown Cinemas will have its first screening at 7 a.m. Ticket prices are at P270 for regular cinemas and P450 for Ultra cinemas—and you can book online now.