Our Cosmo Men supplement cover boy
Gerald Anderson
went beyond
volunteering for telethons to help victims of typhoon Ondoy
. He put his life on the line and actually braved the flooded streets in his village to ensure his neighbors' safety.
His next-door neighbor, Dr. Divine Rosales-Murao, posted on Facebook photos of Gerald swimming through the flooded streets of their village, Vista Real Classica in Quezon City, to check on his neighbors in Capetown, Kingston, Stockholm, and Queensland streets. Dr. Divine reported that the water has reached the top of their residence's gate, where Gerald himself stood, as you can see in the photo below.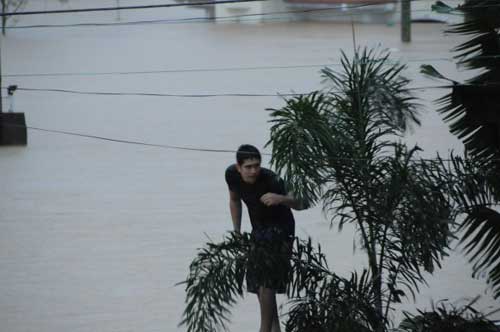 "Gerald tried to check on us since he knows and he saw I have three small kids with me, plus the house staff. The whole ground floor of our house was affected by the water. We told him we are still okay, and the second time he went back to us there, he was with
Cesar Montano
and
Bayani Agbayani
, plus others. We were telling Gerald if they can check on Queensland Street because my brother is there and we cannot go through that street anymore," Dr. Divine tells Cosmo.ph in this
exclusive
.
"Gerald and his brother did their best to check how they can pass through the raging waters—using ropes and all—to see other neighbors who need help," she continues.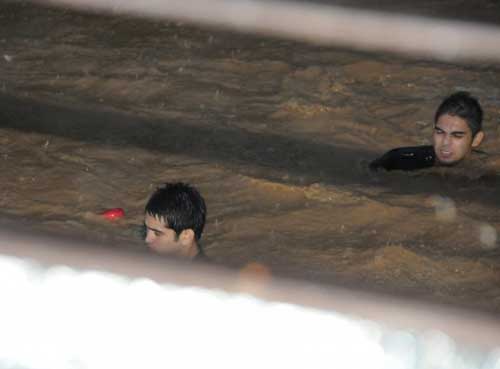 Gerald shown the photo (foreground)
"Magaling na bata.
I'm impressed with his efforts. He is a well-known celebrity [yet] I believe [this] is the genuine humanitarian side of him [that made him] reach out and help those in need to the best of his ability," Dr. Divine tells Cosmo. "I give compliments to our neighbors' concern, courage and bravery [for] at least [checking on] and helping his fellow street-mates," she writes in her Facebook.
So Cosmo chicks, let's follow this wonderful example Gerald has set for us. We're not saying you swim through raging waters, but know that every bit you can do to help victims of the typhoon would really count.
Click here for suggestions on where to get a headstart.
To find out why Gerald is such an all-around Cosmo hunk,
check out these videos, photos, and interviews
.
See a couple more pics on the next page.
[nextpage]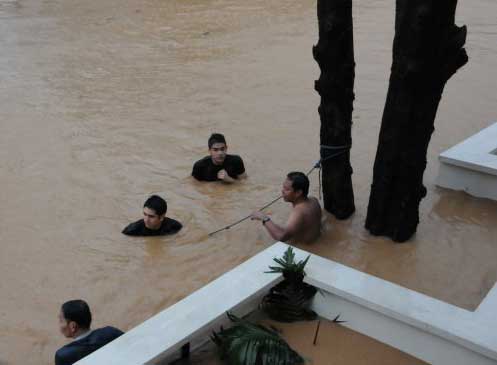 Gerald with village neighbors, braving the flooded streets.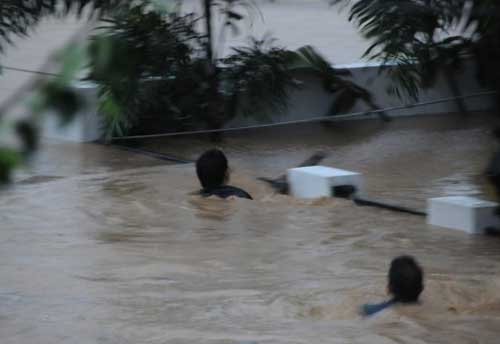 Gerald swimming to a submerged house gate.
Continue reading below ↓
Recommended Videos