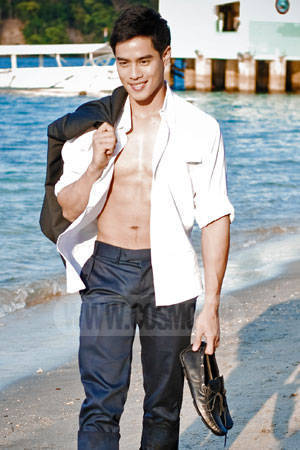 This is a guy who's got his priorities straight. May 2012 Online Hunk Victor Silayan may have been crowned a TV5 Primetime Prince and snagged various modeling gigs (including a sexy underwear stint for Bench), but this Applied Corporate Managament student at De La Salle University still considers school a priority. Which, he admits, is why his acting career probably hasn't taken off to greater heights as it could have.

"I'm really moving slowly [career-wise] because I still study, and I'm taking them both seriously," Victor explains. "Kasi as we all know, as students, [school] is pretty much a priority and, you know, full time 'yon e."

Whether he's an actor, student, or both, one thing's for sure: we've got the hots for Victor. At a press event last year, we couldn't help investigating his boyfriend potential by asking about the girl traits he digs.
Victor also shared some wise words for all you beautiful Cosmo chicks, so read on below! While you're at it, check out more photos of Victor as our May 2012 Online Hunk.


What's one thing about a girl you find irresistable? 

Attitude. Somebody who's cute and funny at the same time, and somebody who's down-to-earth.

How would you make a girl feel beautiful?

It's the way you treat her e. [It's] how I will treat her right. And then from there, the girl will feel that she's being respected. There you go, [making a girl feel beautiful] is actually about the respect. That will bring about the beauty.

What's one thing you think Cosmo chicks should keep in mind about beauty?

If you've got it, flaunt it. But be humble. That's it. Just know how to be humble.
ADVERTISMENT - CONTINUE READING BELOW ↓