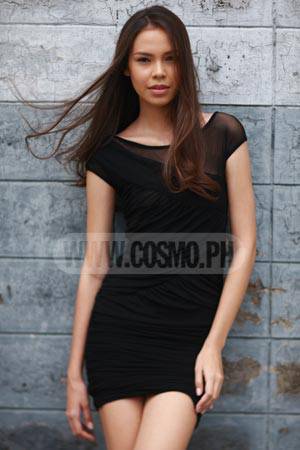 Samantha Lewis knows her priorities. The British-Filipina is a successful model, but one thing that sets her apart from the pack is her dedication to her education. "As much as I'd like to work and do modeling," she tells us, "I still opted to finish my studies first." The 23-year-old took up Nursing.

We knew she's got the whole package--brains and looks--after the time we spent with her during her "Cosmo's 8 Sexiest" fashion shoot for the November issue at the Summit Studio. We got to talk to her behind the scenes about her early years in the industry as well as her top beauty and fashion picks for Cosmo girls like her. Read her interview below, then launch the gallery to view outtakes from her Cosmo shoot.

How did you get into modeling?

I started modeling about five or six years ago. Actually, I was still living in La Union and I did a beauty or hair show for one of my friends who used me as a "model." He borrowed clothes from a designer, and that's where I met the then-president of FDAP [Fashion Designers Association of the Philippines] Edgar San Diego. He got my number and he texted me to do a show. So, from La Union I came all the way to Manila to do my first fashion show.

But at the time, I was [just about to] graduate from high school...I did school first, and then when I moved to Manila, that's when I started doing shows regularly. But still, whenever I had school, I would stop. I only do shows or shoots when I have my sem break or summer break.

Who inspired you to become a model?

When I was younger, I really wanted to do modeling, so I guess it's kind of a dream [come true]. But since I've been in the industry, I look up to people like Joey Mead and Marina Benipayo 'cause...whatever happens they know what to do. Like [if] their dress gets caught in the stage or whatever, it still turns out beautiful.

What's been your most challenging modeling experience so far?

Everything is challenging for me 'cause when you do modeling, it's like you're acting, as well. In your face, you have to show your emotions. They tell you, "I want a happy smile." Or, they tell you, "I want sexy." Whenever they tell me [that] I get to the point na parang "Me, do sexy?" It's kind of a challenge for me 'cause I find it awkward sometimes.

What's the best modeling experience you've had so far?

Every time it's a different experience, but I think one of the latest shoots I did...I was doing a shoot for a brand for PMAP's 25th anniversary, so I was with four other PMAP models. You can kind of say [that we represent] different generations.

Which type of modeling do you prefer--ramp or print?

I think I love shoots better because I get to play a character. [Especially] if the set looks really beautiful and they want you to be wearing gowns. I also did a shoot wearing all leather--it's more fierce and sexy. I enjoy shoots more than ramp just because I can be a different person.

Do people treat you differently now that you're a model?

I really haven't noticed. Even before modeling, whenever I walk in malls I don't really look around and see how people look at me, just because I find it awkward when someone is staring at me. But yeah, there are some times when I walk into shops and they ask me, "Are you a model?" and "Are you in print or ramp [modeling]?" I tell them [and] people are nice [about it.]

How do you stay in shape?

I won't lie; I don't have a diet. I can eat anything I want, and I don't really work out or go to the gym. I guess people will really hate me right now, but I'm just really lucky to have the genes from my dad and mom.

How do you take care of your skin?

I don't really have a beauty regimen; I just use facial wash and drink lots of fluids everyday.

Name three beauty products every model should own.

First things first: I always have lip balm with me 'cause cracked, chapped lips are horrible and really painful, as well. The second thing would probably be concealer. For me, whenever it's that time of the month, I get breakouts. I can't help it, so to cover up the blemishes, a good concealer [is necessary.] Last is conditioner because aside from the face, you should have beautiful hair.

What's the top beauty secret you've learned from modeling?

Proper contouring of the face, 'cause if you don't know how to do it properly, you look different in pictures.

What was your biggest insecurity and how did you overcome it?

I have a lot. But, I guess the biggest insecurity I had [has to do with] wearing two-piece bikinis 'cause...I always thought I don't have the body, like I'm too thin. But I guess I overcame that when I went to Boracay. I was so nervous at first, but then my friends [were] telling me, "It's fine, everyone here of all sizes and shapes wear bikinis and no one minds." So I was like, "Okay..." At first I was kind of shy, but then I got used to it. Then I did a show and a shoot for a friend who had a bikini line. Now I'm more comfortable wearing bikinis.

How would you describe your personal style?

Comfortable. I like wearing tank tops, shorts, and flats.

Name five things every woman should have in her closet.

Probably the basics, like a black dress for a night out, a good pair of jeans, tank tops in basic colors like white, black, and brown, a nice blazer, and denim shorts.

What's your tip for girls who want to pursue modeling?

If you want to be a model, just know the right people to go to. Some friends ask me how they can start out [and I tell them] you should get a really good photographer. You have to have a set card and a portfolio, and of course, if you want to be a model it should really be a good book.

What are your plans for the next five years?

Well, I really don't know about five years from now. But maybe two to three years from now, I hope I'm doing international modeling.


Launch the gallery to see Samantha's outtakes from the "Cosmo's 8 Sexiest" shoot! Don't forget to grab a copy of Cosmopolitan Philippines' November 2011 issue with Carla Abellana on the cover to see the entire fashion editorial! Today's the last day--we have a new issue out tomorrow!

1673
Continue reading below ↓
Recommended Videos