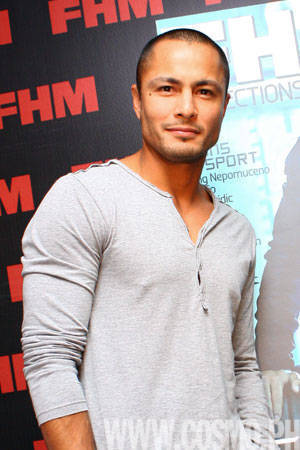 It's been a while since we had Derek Ramsay on our online pages, so it's time we turned our attention on this former Cosmo Centerfold and Man On Fire--who's also the boyfriend of former Cosmo cover girl Angelica Panganiban (they've been together for five years!).

Cosmo.ph got to chat exclusively with the half-British sports buff recently. Read our fashion Q&A with Derek below.

What's your personal fashion philosophy?

I only dress up when there is an occasion. I'm a jeans and T-shirt kind of guy. I like to be comfortable in the clothes that I wear. Don't get me wrong, I also want to look good--that's why I keep my body in shape, so that anything that I can grab and put on me will look decent.

For guys, we're not all blessed [with] a great fashion sense, but if you have a fit body, anything will actually look good on you. So my fashion sense is very rugged. I love jeans, I love shirts, and clothes that breathe. Kasi the Philippines is too hot to be all wrapped up!

Is there something that you wear every single day?

Yeah, it's one scent that's more on the citrus side. I like my scent to be fresh and sweet. And I always wear a watch. The only time I'm not wearing a watch is when I go to bed and when I'm playing sports. But with whatever I'm wearing, whether it's shorts or jeans or formal wear, I always have to have a watch on.

Can you give us the top three fashion items you like to splurge on or collect?

Jeans, no matter how much they cost. I love jeans, I splurge a lot on shoes, and I love T-shirts. No one understands why I spend, let's say, $180 on a T-shirt, but I do.

What are most men self-conscious about when it comes to their looks?

I think the biggest problem for men is the stomach bulge. When you notice guys who have a stomach bulge, they [try to hide it under] these big, baggy, 'yung mga polo na may kwelyo. I think that's one of them.

A lot of guys kasi think that if you see it on somebody, it's gonna look good on them, too. [But] you have to go out there and experiment with your clothing. It's not necessarily going to look the same on you. My suggestion is: instead of just buying jeans, get them made for you. Especially if you're not the type who wants to get into shape. It's hard to find clothes that are going to suit you and fit your body and make you look good.

I've also noticed that guys are getting more concerned about their face when it comes to oiliness and pimples and acne, but they have too much pride to actually use certain products. I don't think it's gay or metrosexual if you go and buy specific facial cleaners or toners [to address your problems]. I say, go for it.

What outfits do you like seeing on girls?

I love simplicity 'cause when there is an occasion for the girl to get dressed, then you can be wowed. But I don't know why I get so attracted to girls that are in sporty attire, beach wear, and my favorite is when they have a ponytail. I get really attracted to girls who wear a ponytail, tattered jeans, and just a white wifebeater. That's what I find most appealing on a girl. Then, later on in the evening, she gets dressed up and wows me in a totally different way.

What do you wish women would stop wearing?

Lip gloss. It's weird, it's just so weird. It's like, "Are you drooling?" Parang, why would you want your lips to be that shiny? Clothes-wise, [another turn-off is] six-inch heels. I'm not a big fan of the six-inch heels. 'Di ba? If you're on a date and she's struggling, it's a hassle for you.

How would you describe your girlfriend Angelica Panganiban's style? What makes her unique?

Ever-changing. That girl invests so much in magazines and time on the computer looking for different fashions. She's not afraid to mix it up, and I think that's why hindi ako nagsasawa sa kanya 'cause she always has a different look. One day balot na balot, then the next day she'll wear something sexy. She'll mix all her old clothes with the new stuff that she gets. She lines up her shoes and clothes and takes pictures of them--I don't get it! But I think the main reason she looks good is that she's not scared to experiment with her clothes. She's confident with who she is and her body. Alam na niya.

Do you let Angelica have a say on your fashion? To what extent?

Yes. I consider Angel's opinion on what I'm wearing. I value that. I won't step outside the door if she doesn't give me a go signal, unless it's at the beach, then wala 'kong pakialam 'cause you can't go wrong with board shorts! (Laughs.) But yeah, if it's a formal event, I always ask her if what I'm wearing looks good.

What's the best way for a girl to give her guy suggestions on how to improve his style?

Ohh! Delicate issue...Just be straightforward. Mas masasaktan 'yung guy if he finds out pa through little things or if he finds out pa through somebody else. Angel has this issue with these shorts that I wear, and she went straight up to me and she goes, "These shorts have to go." So I said, "Why?" And that's the first time she goes, "You always wear them. I've seen them in so many pictures, parang nakakasawa na." So, she's straightforward. I think the best way so that you don't offend the guy is to say, "Hey, look, you gotta do something about your fashion sense."


Launch the gallery to see photos of Derek!
Continue reading below ↓
Recommended Videos
1526