The world today is not as it was before the novel coronavirus disease (COVID-19). Busy streets are now empty, and everyone's home, thanks to the lockdowns and quarantine restrictions. But there's always something to be grateful for. First-time dad Erwan Heussaff is taking this opportunity to spend a lot of time with his newborn daughter, Dahlia Amelie.
"I would never have had the opportunity to spend this much time with my newborn daughter than if everything was back to normal," Erwan said on the online fundraising event One Voice Pilipinas last Saturday, April 3, 2020.
If he became a dad before COVID-19, the new dad said he would have gone back to work and would not be able to see Dahlia grow every day. "I see her change every day," Erwan said. "It's crazy!"
"For me, it's been amazing to be a full-time dad, which is something I never thought I'd be able to experience, just being at home every day," he added.
Erwan said his wife, Anne Curtis, is "doing just an amazing job" of being a mom to their daughter. He also suggested he now has a "dad bod."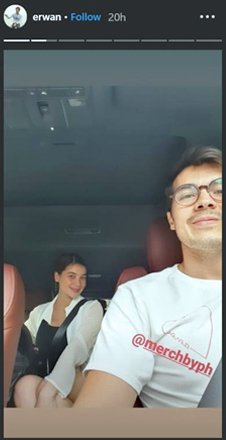 Continue reading below ↓
Recommended Videos
The couple has been in Australia even before they welcomed Dahlia last March 2, 2020. Like in the Philippines, the Australian government is ordering everyone to stay home.
"Whatever is happening in the Philippines, it's everywhere else," Erwan said. "It's really worldwide. Everyone is going through the exact same thing. Everyone needs to stay home," he stressed.
Though they are in The Land Down Under, the couple has been doing what they can to help fellow Filipinos here in the Philippines. Erwan and Anne recently donated isolation tents for Angel Locsin's initiative.
***
EXPLORE COSMO