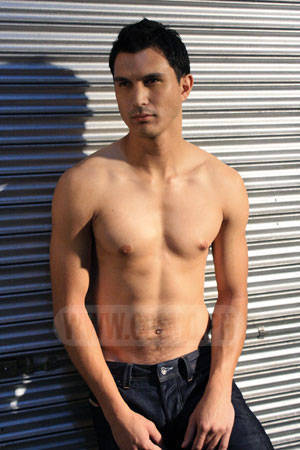 The Philippine national football team, popularly known as the Azkals, is made up of some of the hottest athletes in the land. You girls have swooned over 2011 Cosmo Centerfolds Phil and James Younghusband, Anton del Rosario, and Aly Borromeo, but this time we're shining the spotlight on another member of the team: hunky forward Nate Burkey.

The 27-year-old was born and raised in the US, but came to the Philippines after college to play football and represent his mother's home country. He plays for both the Azkals and the Kaya Futbol Club, which have earned him a loyal following and, naturally, many adoring fangirls.

Since it's the Love Month, we decided to get the 411 on this athlete's love life (but sorry, ladies, he has a girlfriend!). We interviewed him at photographer Wesley Villarica's studio in Pasong Tamo before his steamy Hunk Of The Month shoot, which you can view on page 60 of the February 2012 issue. He talks about his relationship history, the qualities he finds attractive about a woman, and his advice for single girls in our chat with him below.

How many times have you been in love?

I've been in love three times.

Tell us about your first love.

My first love was genuine but immature, I guess, just because I was so young [and] naive.

How was your first kiss?

Ever? I don't know if I can remember that. Oh! I think it was in the playground, behind bushes. (Laughs.) [My first] meaningful first kiss was probably in middle school.

Describe your first breakup.

My first breakup was in high school. I was 17. I think it went fairly well, it just seemed like the relationship was ending. But there was so much effort that went into the relationship that when it ended, it was heartbreaking.

What's the greatest lesson you learned from past relationships?

I guess that life never stops. [You're] constantly gonna be moving so you just have to be aware of that and take that into [consideration] when you're in a relationship.

How do you approach girls who interest you? Ever used pickup lines?

No, I don't have any pickup lines. I usually just smile and, if they're intrigued or like [me] and they smile back, then maybe I'll start up a conversation. But I'm not one for pickeup lines.

Describe the kind of girl you find attractive.

Someone with a beautiful smile, and then everything else kind of comes in. Noticing the smile and the face is what attracts [me], I guess.

What qualities do you look for in a girl?

I love someone who's a lot like me. Down to earth, someone you can have a conversation with and just be real, and talk about life.

Does she have to like football?
 
Yes. If she doesn't, then once we start seeing each other she has to.

How would you get a girl interested in football?

I'd just invite her to one of my games.

What's the sweetest thing you've ever done for a girl?

Probably surprising someone by making dinner.

How do you usually celebrate special occasions like V-Day?

Usually with a nice dinner and a relaxing evening.

What do you really think of Valentine's Day?

It's just like any other day. Some people blow it out of proportion. It's definitely overrated--but love isn't. If you're single on Valentine's Day, there are plenty of other people who are single as well.


Launch the gallery to see behind-the-scenes photos from Nate's February 2012 Hunk Of The Month shoot, and watch for highlights from his shoot and interview on CosmoTV, coming soon!
Continue reading below ↓
Recommended Videos
1831