Attention, Upper East Siders: Gossip Girl is officially making a comeback. No, this isn't just some elaborate plan orchestrated by Georgina Sparks. We have official confirmation and first pics from the set!! HBO Max (WarnerMedia's new streaming service) is hooking us up with the Gossip Girl reboot. Here's everything to know about it so far...including what the show creator said about who "Gossip Girl" is this time around.
THE REBOOT IS ABOUT A BRAND-NEW GROUP OF KIDS.
HBO Max says the new Gossip Girl will "address just how much social media—and the landscape of New York itself—has changed in the intervening years." So...this thing will basically be Euphoria but at a private school in New York? Count me in.
THE CAST IS KINDA STAR STUDDED.
I know, I know—it's hard to imagine Gossip Girl without the OG cast. Like, we totally understand that although the simple mention of the return of Gossip Girl is reason enough to pour yourself a mimosa (or have Dorota pour one for you), there's also a strong possibility that not everybody would be down. But we're just going to have to rip off the Band-Aid now because HBO has been announcing casting news.
The first round of casting included Emily Alyn Lind (Revenge), Whitney Peak (Chilling Adventures of Sabrina), Eli Brown (Pretty Little Liars: The Perfectionists), Johnathan Fernandez (Lethal Weapon), and Jason Gotay.
The second round included Tavi Gevinson, Thomas Doherty, Adam Chanler-Berat, and Zion Moreno. Let me give you a v brief lowdown on their résumés too. You know Tavi from Scream Queens and CBS All Access's The Twilight Zone reboot. Recognize Thomas? Yeah, he's been featured on Hulu's newest hit show High Fidelity. And Adam is known for his Broadway work in Next to Normal and Amélie. Zion is also most likely a familiar face from her stints in TNT's Claws.
THERE WILL BE AT LEAST 10 EPISODES.
HBO Max has ordered 10 episodes for the first season of the reboot. Each one will be an hour long.
I MEAN look at these pics and try not to get excited. I dare you.
Continue reading below ↓
Recommended Videos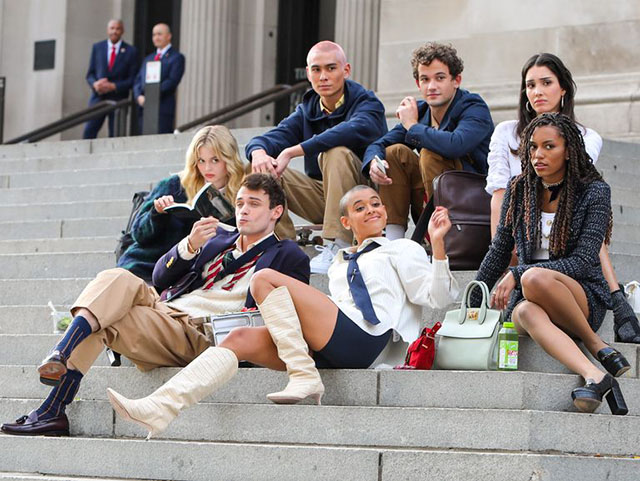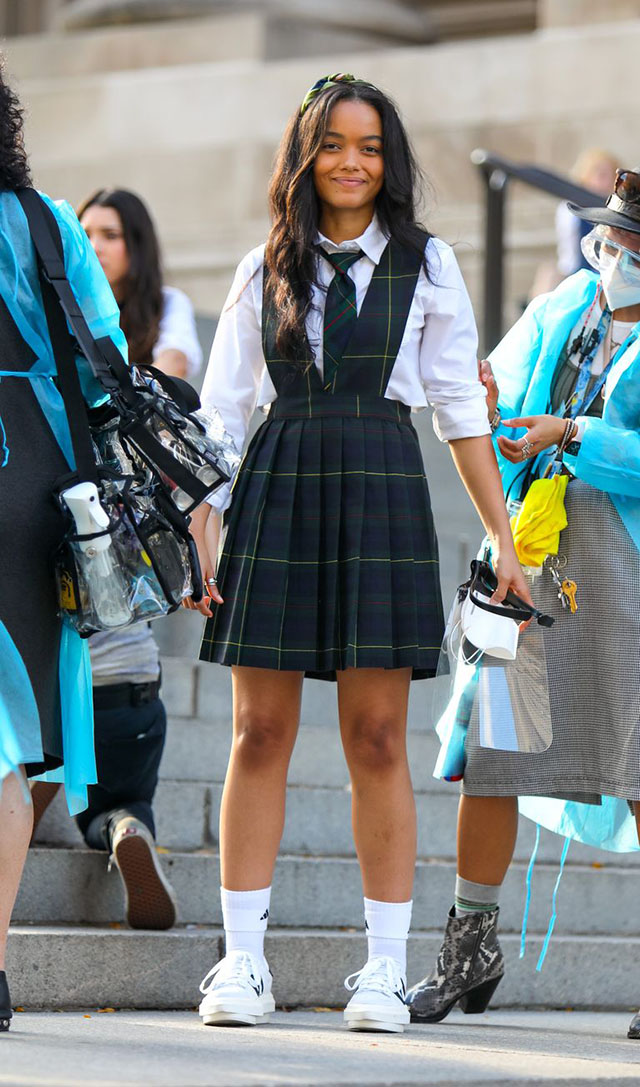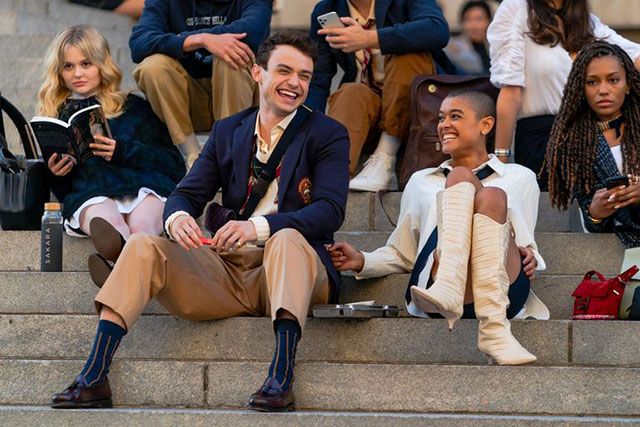 Extra props to the cast for staying safe and masking up when the cameras were off.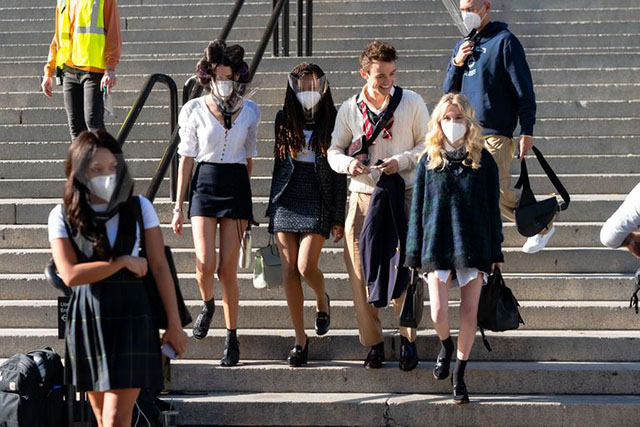 WE DO KNOW KRISTEN BELL WILL BE THE NARRATOR AGAIN.
The woman behind the infamous "XOXO" is BACK, people. Variety confirmed the news, and it's absolutely major. So while the rest of the cast is TBD, there is at least one person returning from the original, if only in voice form.
AND CHACE CRAWFORD WOULD TOTALLY BE DOWN TO MAKE A CAMEO.
Chace Crawford (aka Nate Archibald) told Digital Spy that he's game to rejoin the show...as long as it's done the right way. "I don't know what it would look like with us being in our 30s now, but I always say, because it was such a big part of my life, I'm open to anything," he says. "It would have to be really right and really specific, and with TV and the golden age of the TV streaming service, maybe an eight-episode season...."
Chace does admit it's a long shot to do an original cast reboot. "It would be very tough to get everybody on board, I think, because of their schedules....Penn, Leighton, Ed...they're all doing really good TV shows. The reboot might come in the form of new characters. I would absolutely cameo. I'd have to!" Um, obviously!
Look, he's not wrong. Would anyone want to take Penn away from Lonely Boy 2.0? You is another big hit for the former Upper East Sider, and luckily, he was all over season 2. It's just funny he didn't mention Blake Lively, actual movie star, as well.
LEIGHTON MEESTER MIGHT BE A MAYBE.
"No one's ever asked me," Leighton told E! News before the reboot was officially confirmed. "No one's ever talked to me about it except for in interviews, and I always say the same: I never say never, so I don't know. No one's sent me that information."
So...that's a definite possibility, right?!
WE ALREADY KNOW WHO GOSSIP GIRL IS....
Creator Josh Schwartz has no interest in keeping the identity of Gossip Girl a mystery this time around. Here's what he told E! News:
"It didn't really feel like a group of adults who were being controlled by Gossip Girl would make a lot of sense, so it felt like there was something really interesting about this idea that we are all Gossip Girl now, in our own way...that we are all purveyors of our own social media surveillance state and how that's evolved and how that has morphed and mutated, and telling that story through a new generation of Upper East Side high school kids felt like the right time."
That's right. You're Gossip Girl. I'm Gossip Girl. We're all Gossip Girl.
THERE'S NOT A DEFINITIVE RELEASE DATE YET.
It's unclear exactly when we'll be able to get our hands on new episodes of Gossip Girl other than the vague timeline of "sometime in 2021" so you might have to wait it out.
***
This article originally appeared on Cosmopolitan.com. Minor edits have been made by the Cosmo.ph editors.
EXPLORE COSMO