During her trip to Singapore over the weekend, Heart Evangelista wore her Panda shirt, a fitting tribute to her beloved adopted pet. The shirt is a collab creation under the #LMxKamiseta line, part of the capsule of Heart Evangelista (a.k.a. artist Love Marie) creations under this Philippine homegrown brand which she represents. 
Everyone knows how totally in love Heart Evangelista is with her pets, and Panda is one of Heart's most beloved Aspins (Asong Pinoy). The shirt features a painted portait of Panda lovingly made by Love Marie herself. Panda has quite a following—making the Panda shirt such a hot item on the shelves. We aren't suprised that the hot ticket tee is so popular, because the black-white-red combo makes the tee look so fresh and chic. Plus, Panda is looks just sooo adorbs!
Continue reading below ↓
Recommended Videos
Fans and followers have been searching for Panda shirts all around, with many saying the shirts are now sold out in stores. We're crossing our fingers the retailer stocks up soon, so CGs can share in all the Aspin—and Panda—love.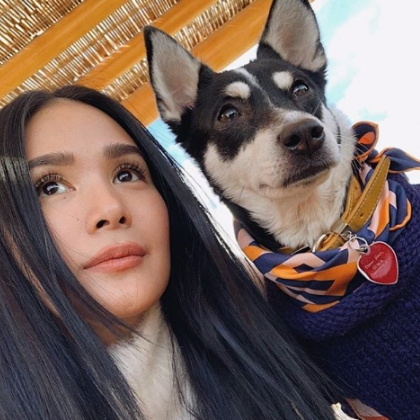 An advocate of adoption, Heart's always been known for her support of Aspins. Last year, on August 23, 2018, Heart launched the "Have A Heart For Aspins" campaign with @pawsphilippines. She posted: "This is a dream come true for me because I grew up with a lot of aspins. I understand how they're beautiful and gentle animals who are equally deserving of love as any other pet. So when PAWS approached me for this campaign, it was perfect! I've been with PAWS since 2005, and since then, I've seen many loving aspins find homes through their rescue shelters. Adopting an aspin was one of the most fulfilling decisions I've made in my life, so I encourage everybody to try it too! Right now, there are over 300 rescues available for adoption from @pawsphilippines I hope you support the cause  #AdoptDontShop #AspinClub" She dedicated her involvement in the cause to her beloved Panda.