The Long Plot, Sans Spoilers:
Han Seo Jin (Yum Jung-ah) is throwing a party for her bestie, current SKY Castle queen bee Lee Myung Joo (Kim Jung-nan), to supposedly congratulate her on her son, Young Jae (Song Geon-hee), getting accepted into Seoul National University med school. Supposedly, because everyone knows the truth, even if they're all pretending not to: that she's buttering up Myung Joo to get her to spill the tea on how she managed to get Young Jae into SNU.
Her neighbor No Seung Hye (Yoon Se-ah), who's lower down in the SKY Castle totem pole, is being pressured by her über ambitious husband Cha Min Hyuk (Kim Byung-chul) to come up with her own scheme to get Myung Joo to share the secret of her success. She is reluctant to play the game, but she decides to give it a try anyway.
Meanwhile Jin Jin Hee (Oh Na-ra), the Gretchen-slash-Karen to Seo Jin's Regina George is just all too happy to cheer Seo Jin on, of course in the hopes of being let in on the secret once Myung Joo shares it with Seo Jin.
Everyone in SKY Castle is after one thing: to get their children into the best universities in Seoul. At whatever cost. But it all has very little to do with the kids. They're all just trying to keep up appearances/prove their own worth/keep family tradition going/overcome their own insecurities and limitations—through their children.
Lee Myung Joo has somehow managed to achieve their ultimate dream. What's her secret? Apparently more than she's letting on. She eventually does tell Seo Jin how she did it, but when she ends up committing suicide and her son and husband all but disappear, everyone is left wondering what really happened.
ADVERTISMENT - CONTINUE READING BELOW ↓
Nobody lets it bother them all that much though. The important thing for Seo Jin is that she now knows how to lock in that SNU acceptance for her spoiled, obnoxious, straight-A daughter Kang Ye Seo (Kim Hye-yoon). And the answer is a super exclusive, super expensive all-around college acceptance coach.
The plot thickens—and the ensemble cast grows—when a family moves in Myung Joo's old house. Unlike the rest of SKY Castle's residents, they are modest, hardworking, and sensible. They're a breath of fresh air that threatens to turn everyone's lives around.
There's Lee Soo Im (Lee Tae-ran), outspoken and open, she knows Seo Jin's secret past, tests Seo Jin's friendship with Jin Jin Hee, and inspires meek Seung Hye (Yoon Se-ah) to grow a backbone, incurring the wrath of Seung Hye's tyrannical husband.
Soo Im's husband, Hwang Chi Young (Choi Won-young), shakes things up at the hospital, taking the job Seo Jin's husband, Kang Joon Sang (Jung Joon-ho), mistakenly believes is already his, and making Jin Jin's hubby Woo Yang Woo (Jo Jae-yun) wonder who he should side with.
Their young son, Hwang Woo Joo (Kang Chan-hee), is caught up in a love triangle with Ye Seo and her school rival Kim Hye Na (Kim Bo-ra), who has a secret of her own. 
And as if the plot hasn't yet reached maximum viscosity, it thickens yet again when coach Kim Joo Young (Kim Seo-hyung), the super exclusive, super expensive coach that Myung Joo recommended, turns out to be more sinister than she appears.
When Seo Jin discovers that coach Kim may be responsible for what happened to Myung Joo's family, she fires her immediately. But pressure from her daughter and formidable mother in law sends her back to coach Kim on bended knees, begging for the coach to take her daughter back. Her act succeeds (Of course it was an act. This is Seo Jin we're talking about here. Lady doesn't do begging.) but at what cost?
The more she and her daughter are in deep with coach Kim, the more she finds out about how terrible the woman truly is, but by then it may be too late to break free.
At Seung Hye's home, things take a turn for the worse after coach Kim chooses to work with Seo Jin's daughter instead of her boys. Her husband takes it upon himself to tutor (or torture, it's hard to tell) his kids.
His methods are questionable but his pride won't let him take advice from anyone else. And when their daughter Se Ri, Min Hyuk's pride and joy, comes home from Harvard with news that's a major blow to his ego, things begin to unravel. Lucky for her kids, Seung Hye finally stands up to her husband and his totalitarian rule, but will he listen to her before it's too late?
For the most part, Jin Jin and her family are around mostly to provide levity, but when their young son runs away from home, they learn their lesson far sooner than everyone else at SKY Castle.
ADVERTISMENT - CONTINUE READING BELOW ↓
Meanwhile, Soo Im decides she's going to write a book about the whole sad affair with Young Jae, hoping to get to the bottom of things and warn other parents about the dangers of pushing their kids too hard.
She manages to get the whole story from Young Jae and his dad about how coach Kim manipulated the young boy. Later on, she hears about the coach's past from Seo Jin. When Soo Im confronts coach Kim, it just puts her in the coach's radar. And you can bet coach Kim is going to make sure she pays a steep price for all her meddling. 
The Short, Honest Plot:
The parents living in the ultra-exclusive enclave of SKY Castle has one thing, and only one thing, on their minds: to get their kids in Korea's top universities. It doesn't matter who they have to pay, suck up to, hire, beg from, manipulate, or step on. It doesn't even matter if their kids want the same thing they do. They're going to make it happen whatever the cost. But when it finally becomes clear that their ambition may cost them their children, they finally realize that the price may be too high.
The Actors and Where You Last Saw Them:
The Moms
Yum Jung Ah
You may know the veteran actress from A Tale of Two Sisters. Her last projects include The Mimic in 2017 and last year's Intimate Strangers. Her last K-drama role was in 2016's Mirror of the Witch.
Lee Tae Ran
She played a supporting role in last year's Love to the End but she's known for Famous Princesses and Wang's Family.
Yoo Se Ah 
You last saw her in Nice Witch and playing Queen Park in 2017's My Sassy Girl, but you may remember her most in A Gentleman's Dignity.
ADVERTISMENT - CONTINUE READING BELOW ↓
Kim Seo Hyung
SKY Castle's nightmare tutor from hell was pretty busy last year, playing supporting roles in Come and Hug Me, The Great Seducer, and The Good Wife. She won an Excellence Award in 2009 for her performance inTemptation of Wife.
Oh Na Ra
She played Jung Hee in last year's My Mister and was also in Judge vs Judge, Woman of Dignity, Man to Man, and Chicago Typewriter.
The Dads
Jung Joon Ho
You've probably seen him in Last Scandal and Iris but his most recent role was as Yoon Won Hyung in Flowers of the Prison.
ADVERTISMENT - CONTINUE READING BELOW ↓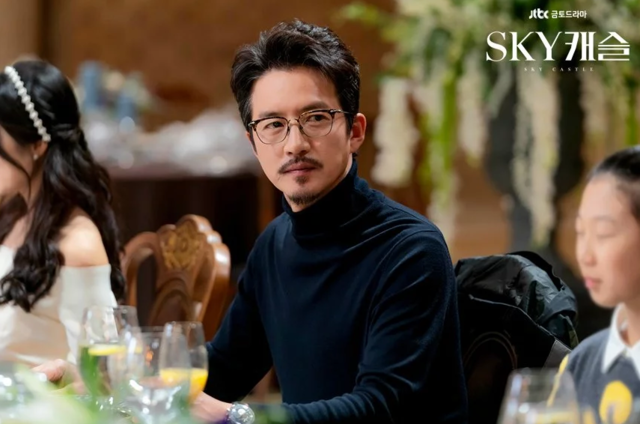 Choi Won Young
You may recognize him from Where Stars Land, While You Were Sleeping, and Hwarang. He was also in Hello Monster, Kill Me, Heal Me, and The Heirs.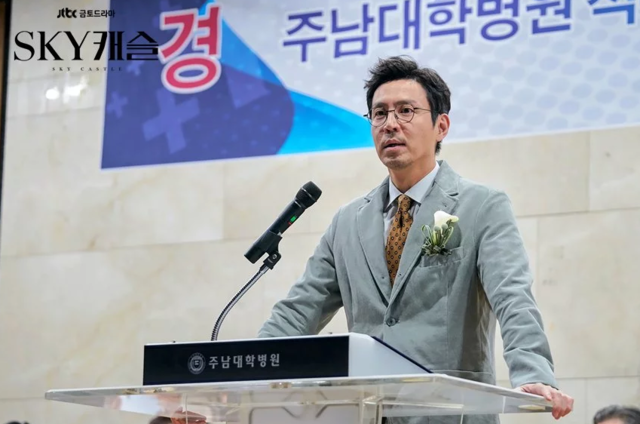 Kim Byung Chul
If you think he was hateful in Goblin, you should see him in SKY Castle! You may also remember him from Mr. Sunshine and Descendants of the Sun.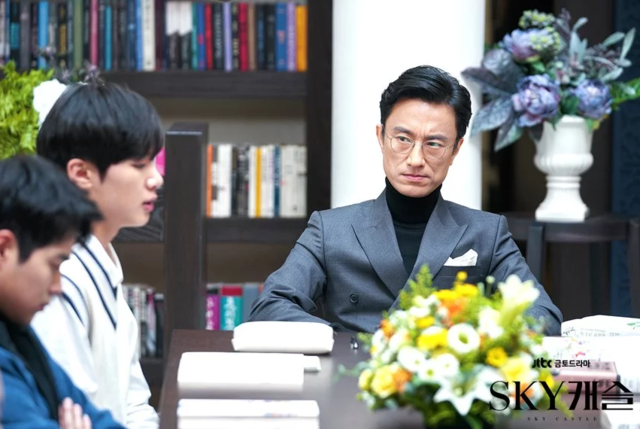 Jo Jae Yun
Jo Jae Yun is a character actor that has been on numerous television shows, the most recent of which are Player, Heart Surgeons, Sweet Revenge 2, and Wok of Love. He also played a supporting role in the hugely popular Descendants of the Sun.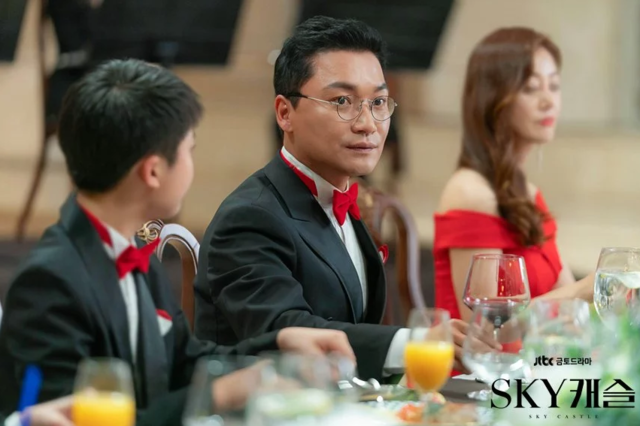 ADVERTISMENT - CONTINUE READING BELOW ↓
The Kids
Kim Hye Yoon
The young actress was last seen in Come and Hug Me and Man in the Kitchen.
Cha Ni
Prior to SKY Castle he starred in Click Your Heart and Signal, but he's more known for being part of the group SF9.
Kim Dong Hee
The 19-year-old newcomer starred in A-Teen before signing up for SKY Castle.
Kim Bo Ra
Her most recent dramas include Love Your Korea Glow, Luv Pub, Avengers Social Club, and My Only Love Song.
Did You Know?
The "SKY" in SKY Castle actually stands for Korea's top three unis: Seoul National University, Korea University, and Yonsei University.


Weekender reports that the ratings of SKY Castle far surpassed that of Goblin and Reply 1988 to become the top cable drama of all time! That's how BIG this show is.


According to China Film Insider, SKY Castle also scored big in China, despite the government's ban on Korean content, mostly because the viewers could relate to the intense pressure of getting kids in top universities.


In an interview with The Korea Herald, actress Yum Jung Ah revealed how despite being married to a doctor like Han Seo-jin, she is nothing like her character. "I don't wish to be a mother like Han Seo-jin. I think she's wrong. I don't want to be that perfect and I don't think it's possible to be that perfect."
The Weekender also shares that the show originally had a 16-episode run, but because of its popularity, they added four more episodes.
ADVERTISMENT - CONTINUE READING BELOW ↓
What my friends think:
"Haunting and dark—this show is not your template K-drama. I can't remember the last time I was this enraged by characters on TV, which just goes to show how effective and convincing the actors were at being dysfunctional. The cliffhangers at the end of each episode will leave you at the edge of your seat! The finale felt rushed though and that happy ending wasn't what the story deserved. It would have been better if episode 19 was the last ep." —Hazel Jayag
"Daebak! That ending was really something. It was very well written, and each scene was well thought off. They really tied up all the storylines and the actors were amazing. I liked how the characters evolved. We have this notion that bad characters should meet unfortunate ends, but the writer and director took the more difficult route—they redeemed the characters." —Sunshine Sangalang
"I'd recommend this K-drama with a warning that it's dark and heavy. Each episode is a surprise, a build up, and I can't predict what will happen next. This is the first drama I watched purely for the story, not just because I was a fan of the actors." —Juliet Bautista
What I think:
I've heard that the educational system in Korea is a cutthroat, high-stakes situation but is this K-drama for real or what?! I hope not. I hope it's a gross exaggeration of the way things really are because if not, yikes. Watching the show, I was equal parts intrigued, appalled, and very worried for the Korean kids.
I get it, though. It's a cautionary tale. It takes a close look at what must be a very pressing issue for Koreans, namely the pressures of getting into a prestigious university. After all, it took the top spot from the hugely popular Goblin and Reply 1988. It must resonate with the audience.
This is the first K-drama where I'm finding it hard to root for anyone, though. In fact, every now and then I feel the urge to pull the characters' hair out or, to borrow Seo Jin's favorite line, rip their lips off. It's frustrating when the characters don't get it, even more so when they refuse to get it. Or when they are selfish beyond belief. 
But despite the lack of morally upright characters, SKY Castle kept me hooked. I wanted to—had to—know what was going to happen to them next. Will they realize their mistakes? Will they self-correct? Or will their ambition keep them on the course to destruction?
I feel so much for the children on this show. The parents are using them to show off, fulfill their own lost dreams, compete with their peers, and validate their own existence and purpose. Nobody is really asking the kids what they want to do with their lives. All that pressure to perform better than the rest, to get into one of the top three universities, to get good grades, to be the best. I can almost feel the walls closing in on the kids, even on Ye Seo who's as hellbent as her mother to get her into Seoul National University.
ADVERTISMENT - CONTINUE READING BELOW ↓
The parents have attached a huge value to keeping up appearances, making it look like everything's perfect: perfect house, perfect children, perfect life, when in truth everything is falling apart. It's no wonder the kids are a mess.
At some point, I started feeling bad for the moms, too. Yeah, even Seo Jin. I guess when everything your kids do or don't do, achieve or don't achieve reflect on you, it's easy to lose perspective. When you get blamed for everything that's wrong and are given no credit for everything that goes right, it can be frustrating.
The fact that I'm so affected means the actors did their jobs really well. Even in an ensemble cast this big, no character is wasted, and each one makes a lasting impression. Okay, Kim Byung Chul can tone it down a notch or ten, but he even makes the histrionics work in his favor.
There were times though when the drama felt a little too much—too heavy, too many characters, too many things happening, too overwhelming, too many shots of coach Kim looking straight into the camera with the scariest expression on her face (we get it already, she's pure evil). It became a challenge to keep up, let alone unpack everything's that's happening. But the director and writer do manage to keep the plot together, even if it's a little overstuffed. 
And I'm not a fan of that finale. I like a happy ending as much as the next guy, but it's all a little too tidy for me. I'm not buying it, this wholesale change that's come over the Sky Castle residents. I agree with my friend Hazel's review. They should have just ended the series with episode 19.
Who I'd Recommend It To:
Anyone interested and ready for this kind of heavy drama. It's a lot to watch, but it's worth it. The show isn't the top cable K-drama of all time for nothing, after all. Just don't expect it to be light or go looking for romance. This isn't that kind of K-drama.