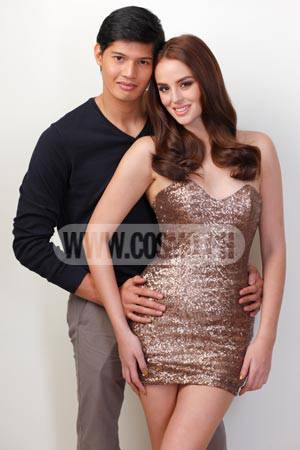 They're two of the most prominent models in the local fashion scene. Georgina Wilson and Borgy Manotoc have both spent much of their lives in the public eye, partly because of their famous families (hers the modelesque Diaz clan and his the influential Marcoses). They totally get each other, and we totally get why they're such a great match.

We wanted to dig deeper into their relationship and show you just how genuinely romantic the famous twosome is. Whether on the back cover and inside pages of the 2012 Cosmopolitan Valentine's issue or behind the scenes, Borgy and George are not afraid to flaunt their sweetness and affection for each other. They whisper inside jokes, laugh together, and obviously can't seem to get their hands off each other. We just loved watching them!

While they don't mind having public displays of affection or posing for magazine covers and ad campaigns as a couple, Georgina tells us that they like to keep the details of their relationship private. Still, they indulged Cosmo with a little peek into their lives, talking about each other and spilling the story of how they hooked up, what it's like to date a fellow model, how they spent Valentine's Day last year, and how they planned to spend it this year.

Witness their chemistry for yourself when you launch the behind-the-scenes gallery of their back cover shoot. Watch for the video coverage and their interview on CosmoTV soon!


Grab a copy of the February 2012 issue of Cosmopolitan Philippines with Georgina Wilson and Borgy Manotoc on the back cover. Turn to pp.26-32 to read her cover feature "The Bold And The Beautiful," and pp.50-51 for Borgy's Man On Fire article "10 Love Lessons I've Learned From Women."
Continue reading below ↓
Recommended Videos
1820