Our first thought: Why did it have to be in a car? (Not that we're complaining about the whole thing.)
Our second thought: Why did Iris (played by Nadine Lustre) have to cry right after?! Major buzz kill. 
The October 25 episode of the hit ABS-CBN teleserye Till I Met You marked a milestone, as it was "the first time that James Reid and Nadine Lustre did a sensual scene in a teleserye," reported PEP.ph.

We agree that it was a milestone, but it wasn't exactly sensual all the way. There were awkward moments, and that's not necessarily a bad thing; it was a car sex scene, after all.

We watch the teleserye to get our escapist fix, so it kind of ruined things when Iris (Nadine) started crying the morning after and told Basti (James), "Iiwan mo na ba ako kasi nakuha mo na ako? ...Bakit ba kasi natin ginawa ito, e!" 
OMG which century are you living in, Iris? We almost want to make you read this story!:
In any case, here's the video, which undoubtedly served its purpose of making everyone kilig:
Iris didn't regret being with Basti—she was sad about how it happened—specifically the location and circumstances. Because, yes, every person deserves to experience their first time in a safe, secure, and, most of all, comfortable place.
This is why we only swooned by about 30% when Basti told Iris, "Iris, ano ba sinasabi mo, I love you, okay?" We said, "Dude, ano ka ba? You don't get it!"
To top it all off, Basti just borrowed that car from their friend Ali (JC Santos). So, yeah, that's going to be another awkward detail.

But, hey, love conquers all—even cringe-worthy moments. We only wish the whole encounter didn't upset Iris so much. If she didn't want to have sex in the car, she could've just said no. And did they use protection?! This would be the cliché of all clichés if she gets knocked up after her first time.
Here's what some JaDine fans thought of the scene:
watched an insta clip of Jadine's love scene and boy.... it was good.HAHAHA. James was so yummy. LOL ????????????????????

— kR ???? (@mstineTan) October 26, 2016
"JaDine fan ako pero di ako happy dun sa love scene nila sa kotse."

More like, s e a s o n a l f a n ? ????#TIMYTheExpressWedding

— FRANCE (@FABULUSTRE) October 26, 2016
When my mom heard about JaDine's "Love Scene" (*clears throat* "$3× scene") she gave me that nasty cringy look of hers. ????

— iSABelle (@xxmissbelle) October 26, 2016
omygash jadine baket bakeeeet jusko ang love scene nyo

— kimby (@kimbyespinosa) October 26, 2016
Grabe pala talaga yung love scene kagabi ng JaDine TIMY. ???????????????? Pero grabe James Reid ????

— paupau? (@paulineirish) October 26, 2016
someone kindly send me link nung love scene ng jadine sa #TIMY kagabe. NAHULI AKO SA BALITA

— Kirstine Camacho (@kirstcamacho) October 26, 2016
How about you? How did you find Iris and Basti's scene? TBH, Blair x Chuck's car sex on Gossip Girl is still the winner in our books: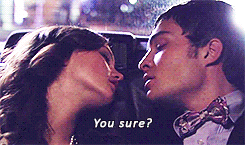 Quick, go to the 0:44 mark!
***
By F. Valencia and the editors of Cosmo.ph.