Fans of Janella Salvador and Elmo Magalona's love team were surprised that Janella wasn't with her on-screen partner during the premiere of his new movie, Walwal.
When asked about Janella's absence, Elmo reportedly said that Janella was too busy to go. Getting backlash because of this comment, Janella decided to clear things up by posting an Instagram Story.
"I didn't want to resort to this, but I cannot tolerate getting all the backlash because of someone's wrong choice of words for the benefit of the movie," Janella began her post. "I know he did not want to disappoint our supporters but it was at my expense."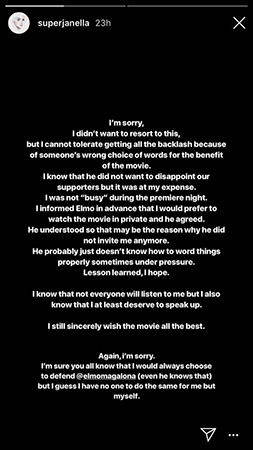 Janella went on to clarify that she wasn't too busy to go to the premiere, but had earlier told Elmo that she would rather watch the film in private, with Elmo agreeing. "That may be the reason why he did not invite me anymore."
ADVERTISMENT - CONTINUE READING BELOW ↓
Despite this miscommunication, Janella still came to Elmo's defense saying, "He probably just doesn't know how to word things properly sometimes under pressure." She also expressed her support for the movie, wishing it well.
Janella also goes on to apologize for not being at the premiere and ends her post saying, "I'm sure you all know that I would always choose to defend Elmo (even he knows that), but I guess I have no one to do the same for me but myself."