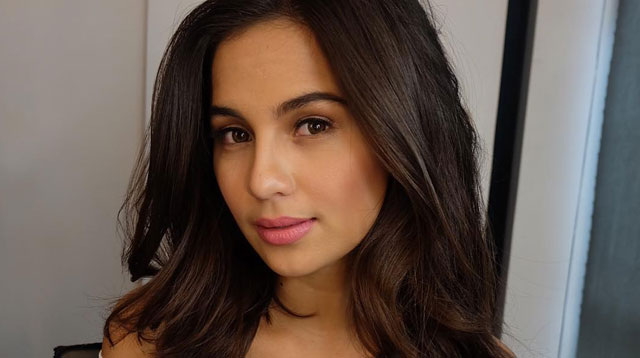 Instagram/jascurtissmith
1 Three weeks ago Jasmine Curtis-Smith posted a snap of her and Erwan Heussaff (who was celebrating his birthday at the time) in an embrace, with him appearing to be kissing her cheek. Fans went crazy and rushed to Anne Curtis' defense. Anne wouldn't have any of it though, because people were being "malicious." Finally, Jasmine shares "Actually, hindi ako nasaktan. More than anything, nagulat lang the way people reacted. But at the end of the day, you can't avoid that there are cultural differences, there are people who might just [not] understand the relationship that the three of us have. So I can't blame them, I guess. [Erwan and I] have been that way ever since [he and Anne] have been dating. It's not that biglaan na may na-develop na ganun na closeness between us." She's also not affected by all the hate comments people have hurled at her. "I don't know them personally, they don't know me personally. So I don't let it affect me." (PEP)
2 Coldplay, Beyonce, and Bruno Mars rocked the stadium during their NFL Super Bowl halftime show on February 8! It's worth noting that Beyonce performed "Formation," her latest single which she released on Tidal and YouTube on the eve of the Super Bowl. It's gotten people to calling her an activist, since the video does say that black lives matter.
3 Iya Villania and Drew Arellano have a "#Project2016," or their plan of having a baby this year. "I don't think anyone's really ever ready [to be a mom], but I am excited," Iya says. "Of course, whether we like it or not, there's a different stress and there are different challenges in having a baby or having a child can bring. I think it's further building our relationship as a couple," she added. (PEP)
4 Interested in getting your undergrad or postgrad degree in the U.S.? EducationUSA is the stop for you. It's the U.S. government's first higher education fair, and it'll be held on Tuesday, February 16 from 2:00 to 6:00 p.m. at Sofitel Plaza. If you go, you'll get the opportunity to interact with representatives from accredited U.S. colleges and universities, and get more info on the app process, financial aid, scholarships, and how to get a student visa. Admission is free! Sign up here to make sure you get a spot and to know more about the fair.
Continue reading below ↓
Recommended Videos
5 Kendall Jenner and Kylie Jenner finally launched their collection at New York Fashion Week! The sisters got praise and support from their mom Kris Jenner, and their brother-in-law Kanye West. Kendall says, "I think a lot of girls look up to us, and we can let them in on what we like now, and they can have it." Kylie echoes "Yeah, it's fun to throw it out there and say 'This is what we love.'" (Us Weekly)
:) #KKspring16 launch party pic.twitter.com/Ll8RQC8C3m

— Kendall and Kylie (@KendallandKylie) February 9, 2016