Updated as of June 29, 2:20 p.m.
In a follow-up post, Jess Wilson clarified that her "accident had nothing to do with" the Sunlight Island Resort and that they were even informed about the existence of the stonefish in the water. She went on to reiterate that the resort "knew exactly what to do when I came out of the water, were extremely calm, efficient, and helpful, and got me to the hospital in the middle of the night in the fastest way, avoiding all COVID exposure and unnecessary paperwork."
"I owe them everything," Jess said.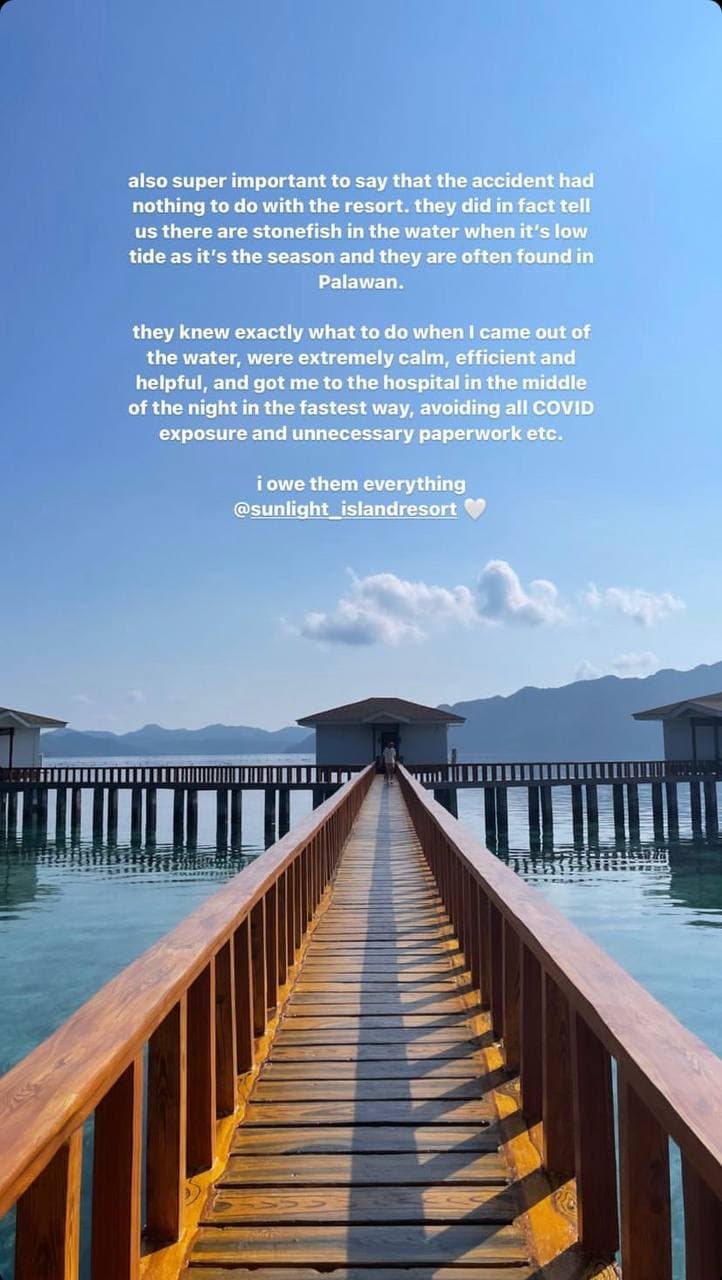 ***
On Saturday, June 26, Jess Wilson and her longtime boyfriend Moritz Gastl tied the knot in a picturesque civil wedding ceremony at the Sunlight Island Resort in Coron, Palawan. Celebrating with their close family and friends, the wedding festivities went from Friday until Monday with them enjoying various beach activities on the island.
Everything seemed to be going great based on their guests' social media updates, that is until Jess herself revealed she went through a life-threatening experience just one day after her wedding. Today, June 29, Jess shared a series of Instagram Stories that documented her ordeal of being stung by a stonefish, aka the world's most venomous fish.
"It wouldn't be right to leave this part out of the wedding story as much as I would like to forget every single minute of it," Jess started her post.
"On Sunday afternoon, I was hanging with a few friends and just talking about how beautiful the sunset is and how Palawan is so magical. We walked down to the water to take some photos of the sky. Not knowing this was going to be a moment that would change me forever, I asked my friend to take my photo by the water.
Continue reading below ↓
Recommended Videos
"Another friend went first, took her photo, and came back out. I then went to take mine and in a few seconds, felt this immense sharp sting [on] my foot.
"This is the photo, the very second, I got stung by a stonefish."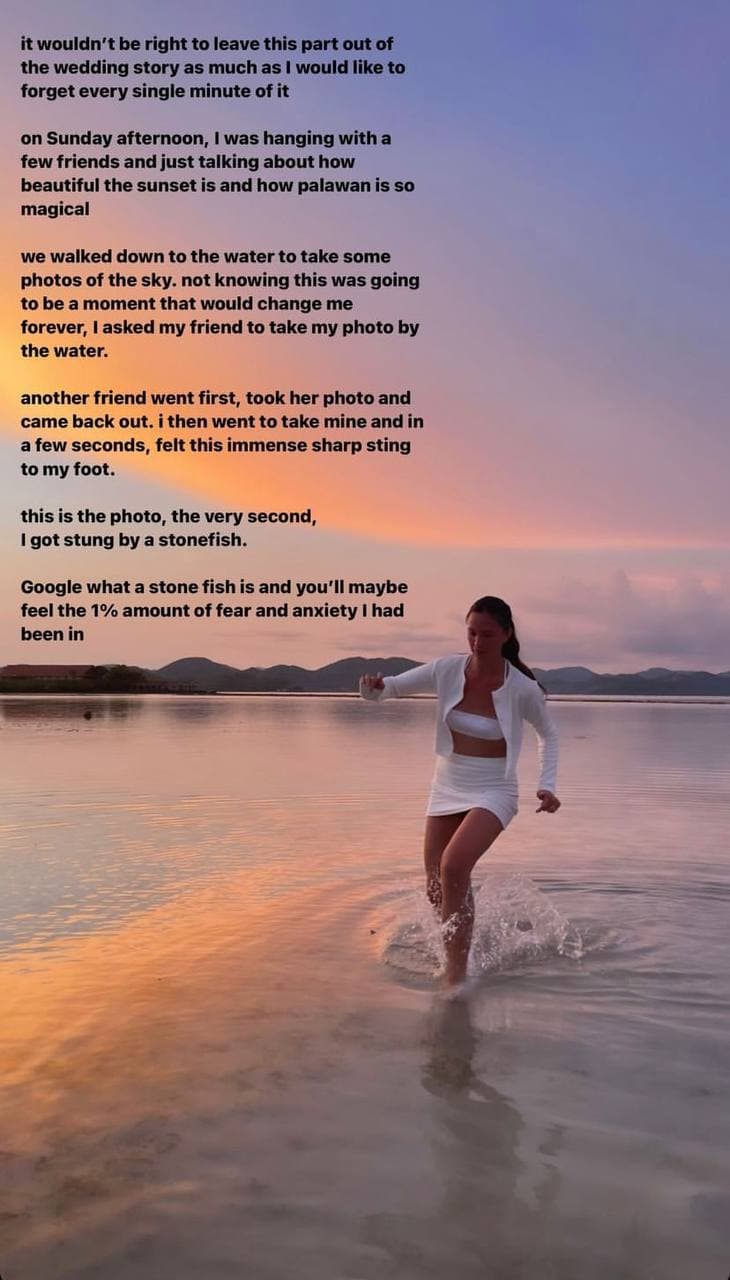 A stonefish is said to lie half-buried in shallow waters, like in Jess' case, and looks like a medium-sized piece of rock. The stonefish's venom comes from natural spears on its back and is released once stepped on. The victim can experience excruciating pain, difficulty breathing, numbness, and more.
In Jess' next story, she recounted how she was rushed to the ER of the Culion hospital via a speed boat and the pain she felt after being stung. "I've never felt such pain in my life," she said. "I could only describe it as that pain [when] you burn yourself, that sting that won't go away. It's that, for hours, times 10."
"They say stonefish are one of the most deadly animals in the world right before the great white shark. I knew the very second it scraped my toe it was that because of the unusual pain. It's meant to kill in seconds. I thought that was it for me."
She then went on to thank the people who helped her out, like the doctors, boatmen, LGU officials, and more. Jess further shared, "Can't make sense of how this happened to me, on this particular weekend, in this way, but I'm so thankful to be alive and feel like I've had a second chance. Never take life for granted."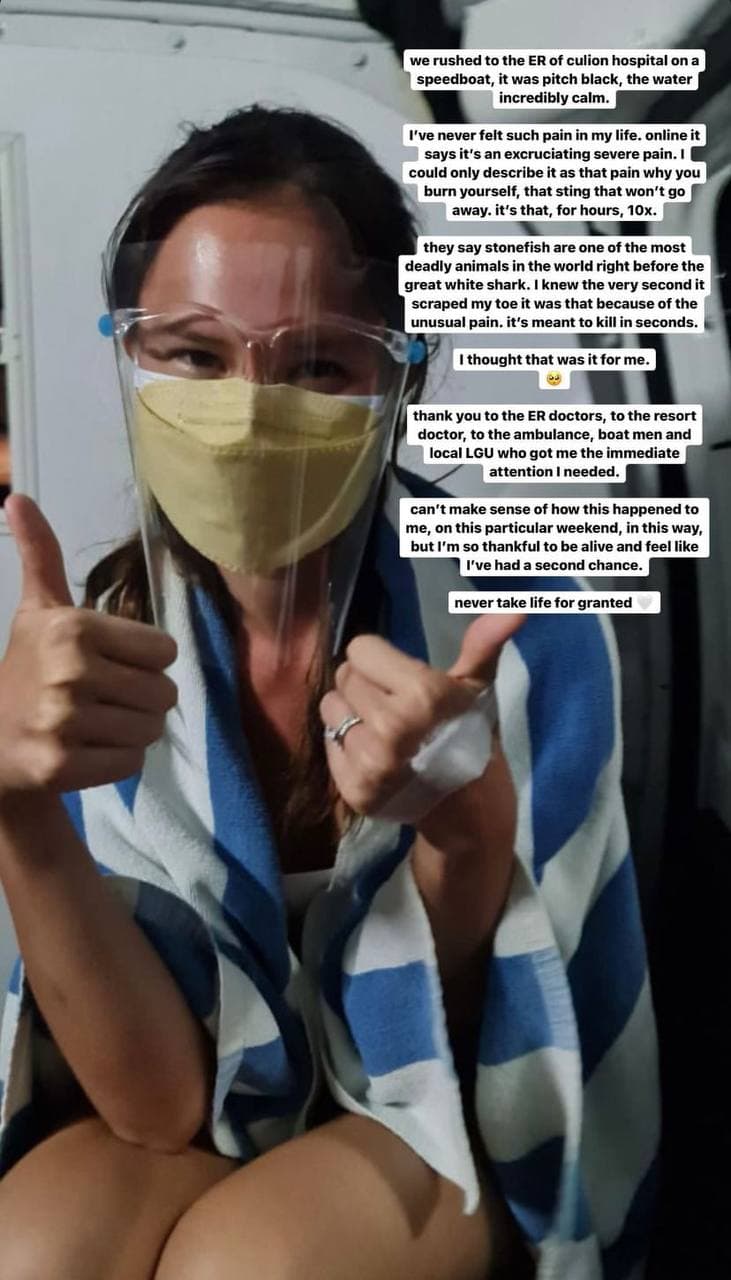 In her last post, Jess said that she's still recovering from her various treatments ("three IVs, two tetanus shots, two ER trips, x-rays, and countless painkillers") and wanted to remind everyone of "how fragile life is, how quickly everything can be taken away, how grateful you have to be for today."
Jess closed off her post saying she "will look back in this day and try to make sense of this story."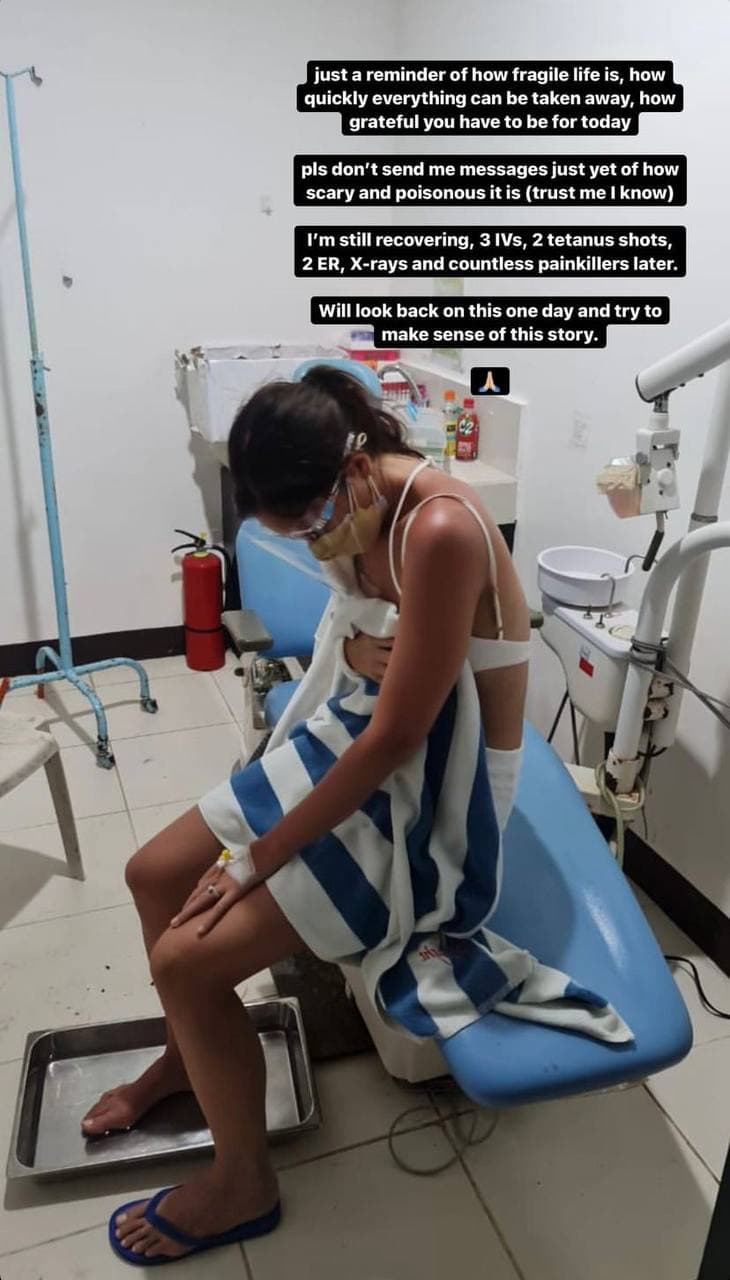 ***
We're officially on Viber! Be part of our growing community and subscribe to Cosmopolitan Philippines now!