Jessy Mendiola got married to Luis Manzano in an intimate civil wedding ceremony back in February, which they only revealed to the public in April. Their nuptials, held at The Farm at San Benito in Lipa, Batangas, was next to perfect because the first man in Jessy's life was absent, her father Roger Tawile.
You see, Jessy's Lebanese-British father is currently based in Bahrain and was not able to fly out to the Philippines because of the pandemic. But the two were able to virtually reunite and have a heart-to-heart talk in Jessy's most recent vlog. We learned what her dad does for a living (Roger has an events business that transitioned to digital for online events), what Jessy was like as a kid ("naughty," "strong," "you had your own personality"), and how proud Jessy is of her dad whom she calls "the genius of the family."
But the most heartwarming parts of their convo were the ones about Roger's feelings towards Jessy's recent wedding—from the moments he misses with her the most to his reaction when he found out she was getting married.
ADVERTISMENT - CONTINUE READING BELOW ↓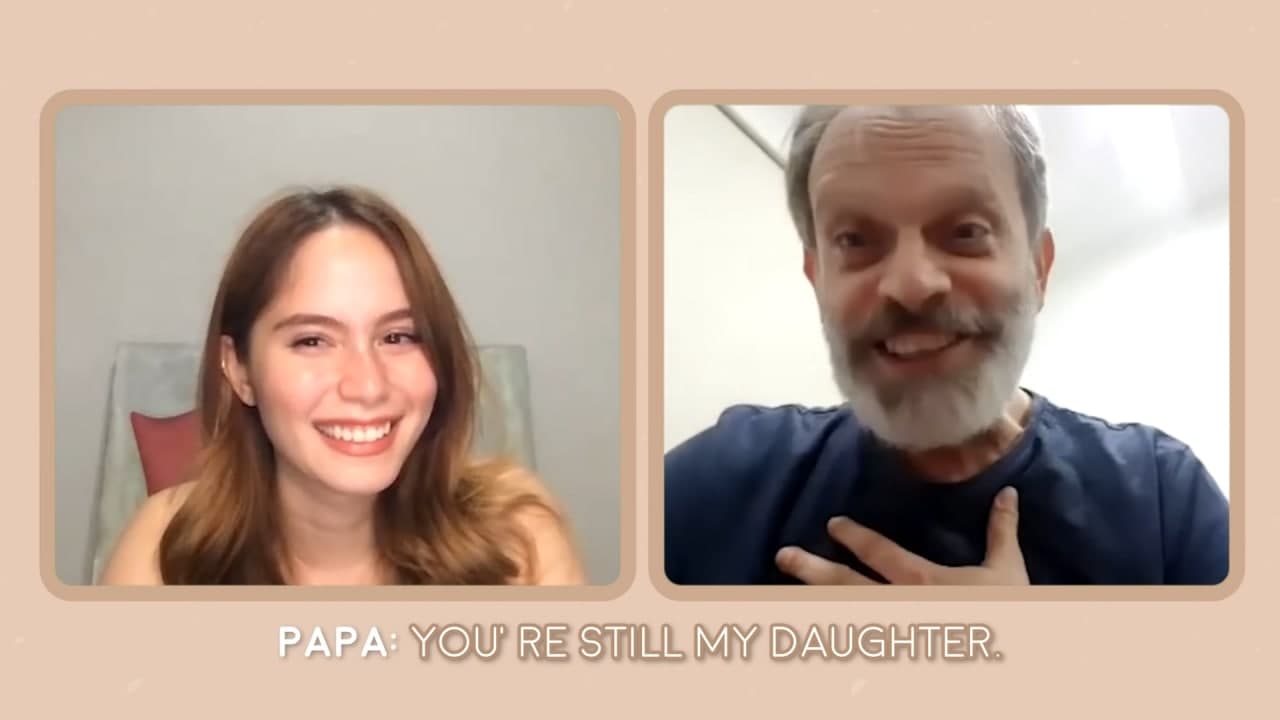 Read Roger's answers below:
On the moments he misses the most with Jessy:
Every second of the day I miss my family. I want to be with you all the time. Every second, I think, I wish I'm there now. I wish I could just smell them, touch them, kiss them, hug them, be close to them, talk to them, laugh. You know when we are together, we're always laughing. I miss these moments. And I just wish it every time. The whole time.
On regretting not being there for a special moment in Jessy's life:
First one, the recent one. You getting married. I couldn't be there…It's not regretting. I wish I was with you when you were on that line [referring to the wedding procession] being a famous actress and everybody's looking up at you. I wish I was just there to hold your hand and make you stronger. I know you are strong. But maybe you will have more trust, whatever a father can give to his daughter, a word of wisdom maybe. Maybe it's not good. It's just I'm telling you something out of my life experience and you could just filter it.
I wish I could be there. It's not feeling bad, you know, but missing these moments, sometimes I think before I go to sleep, I wish I was there just to hold her hand, to hug her, to talk to her—all of you, together as a family. But I'm here alone away from you. I sometimes feel I wish I could just sit there and watch TV with them around me being a family, just be all together. We had time to do it when I'm there, but I wish I could do it more. Again, I promise, it will happen in the future.
ADVERTISMENT - CONTINUE READING BELOW ↓
His reaction when Jessy told him she was getting married:
Well, I was happy! I was happy for you because when you get married, it's your life. You were getting married. Not me. I got married a long time ago. And I asked you so many times before, "Baby, are you sure? Do you love him?" And you said, "Yes, I love him and I want to spend my future with him." For me, that's enough. I just want you to be happy. That's all. So if getting married with Luis makes you happy, Luis it is.
His message for Jessy as a married woman:
You're a married woman, [but] you're still my daughter. You're still my baby. And I will always love you. I will always be beside you. Just be happy. Cherish what you have.
***
We're officially on Viber! Be part of our growing community and subscribe to Cosmopolitan Philippines now!
ADVERTISMENT - CONTINUE READING BELOW ↓