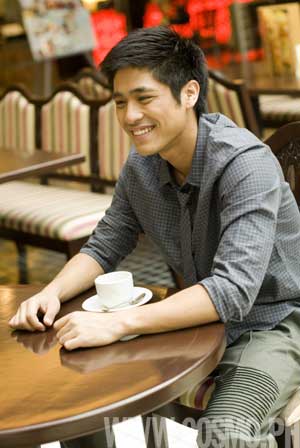 We started started your 2011 on a hot, high note by bringing you Paul Jake Castillo as our January Cosmo Online Hunk. We spent the first month of the year trying to get to know him better, learning his preference in girls, digging deeper into his perspective on relationships, and revealing his sexy, naughty side. We even divulged New Year resolutions he wants you to make. Still, we know you want more, more, more! So this is us giving in: You can chat with him in real-time on Thursday, February 10, 7PM to 8PM, when you log on to Cosmo Chat.

So, how does it go? As with all our Celebrity Chats in the past, you can talk, interact, and even flirt with this eligible PBB hunk f0r one full hour, in real-time, online. You can see his every facial expression through the webcam--just to assure you that it's really HIM you're talking to (for the suspicious gals out there).

Be sure to log in using your Cosmo.ph account, or enter a chat nickname you prefer. It's your chance to ask him all the questions you've been dying to ask (if there's anything else you want to know!), so don't miss this once-in-a-lifetime opportunity! We hope more of you can join this time, since we made it a point to schedule it after work hours!

Be as active as you can possibly be and make a great impression on Paul Jake. Who knows, you just might become his Valentine! With Cosmo and our slew of hunks, anything sweet and romantic is possible (wink, wink)!

Paul Jake will see you online on February 10, 7PM to 8PM, in Cosmo Chat!


Grabe the February 2011 issue of Cosmopolitan with Solenn Heussaff on the cover--and Paul Jake Castillo as the Hunk of the Month!
Continue reading below ↓
Recommended Videos