It looks like Julia Barretto has had enough of the hate and drama that has surrounded her ever since her name was dragged into the Bea Alonzo-Gerald Anderson breakup controversy. She was just in San Francisco recently for an ABS-CBN event, but she remained silent through it all. 
It all started with Bea's cryptic post on July 21. Shortly after, photos of Julia and Gerald reportedly getting all flirty during a party went viral and rumors started that the the two were the reason behind Bea's post. A few days later, during an interview, Bea said there was no formal breakup, just that Gerald stopped talking to her. Gerald recently also cleared the air about the matter, saying that there was no third party involved in his breakup with Bea.
Julia just took to Instagram to finally break her silence, and she had a lot of things to say, especially to Bea.
Julia's statement, which was shared via a series of images on her IG account, started off with a photo of her and Bea together when they were younger.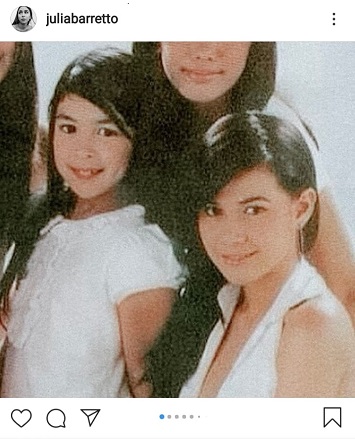 Continue reading below ↓
Recommended Videos
She then talked about what she's endured ever since the issue broke out.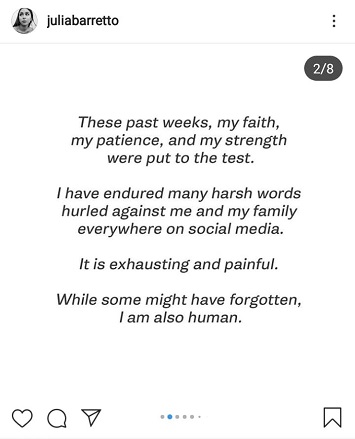 "These past weeks, my faith, my patience, and my strength were put to the test," she said. "I have endured many harsh words hurled against me and my family everywhere on social media. It is exhausting and painful. While some have forgotten, I am also human."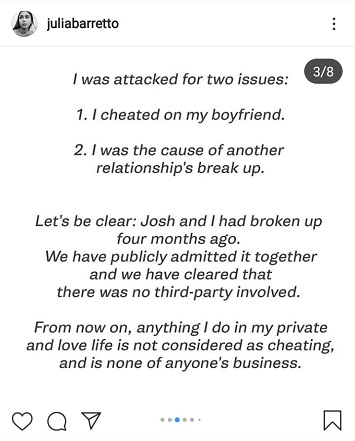 Julia noted that she was attacked for allegedly cheating on her boyfriend, Joshua Garcia, and being the cause of Gerald and Bea's breakup. She clarified that she and Joshua had actually broken up four months ago and that no third party was involved. It can be noted that Julia and Joshua said they were back to being the "best of friends" in June.
She went on to say, "From now on, anything I do in my private life and love life is not considered as cheating, and is none of anyone's business."
She also directly mentioned Gerald for the first time, in light of the issue.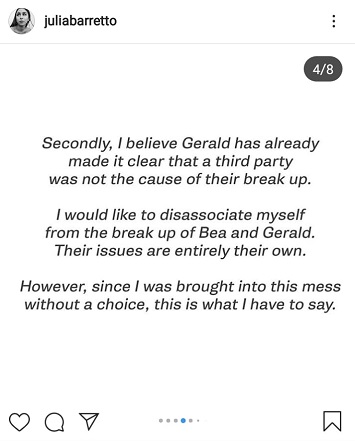 Julia made it clear that she had nothing to do with the Bea and Gerald's breakup: "I would like to disassociate myself from the breakup of Bea and Gerald. Those issues are entirely their own."
But having been "brought into this mess without a choice," Julia went on to direct her next messages to Bea, telling her, "Your heartbreak should have been a private matter, but you have selfishly turned it into something of national concern."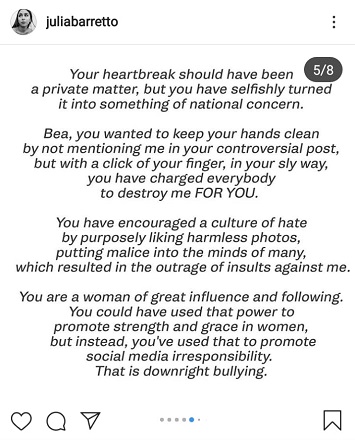 "Bea, you wanted to keep your hands clean by not mentioning me in your controversial post, but with a click of your finger, in your sly way, you have charged everybody to destroy me FOR YOU."
"You have encouraged a culture of hate by purposely liking harmless photos, putting malice into the minds of many, which have resulted in the outrage of insults against me."
Julia went on to say that Bea could have used her influence to "promote strength and grace in women," but she only used it to "promote social irresponsibility."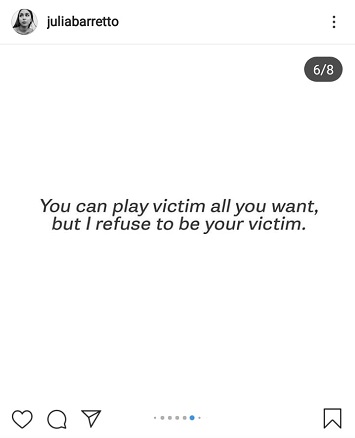 "That is downright bullying," Julia stated. "You can play victim all you want, but I refuse to be your victim."
Julia went on to open up about the hardships of being in the entertainment industry, but despite this, she still loves it very much. For the longest time, she says, she has kept quiet, but now she is "forced to grow up."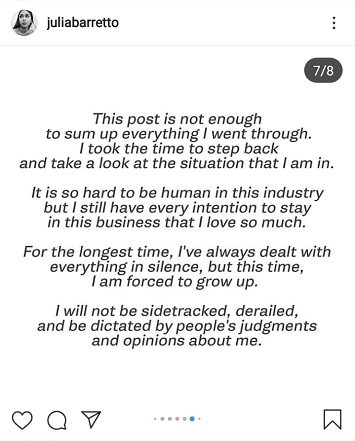 "I will not be sidetracked, derailed, and be dictated by people's judgments and opinions about me."
Lastly, Julia ended with a bold statement: "This is me setting myself free and getting my soul back."