1 We hope you're all safe and dry! Typhoon Glenda is expected to intensify until tomorrow. Charge all your gadgets while you still have electricity and make sure you have enough food and supplies at home. Keep these emergency numbers on your phone and follow these tips.

You might want to listen to this rainy day mix too while you're at it. Bored? Here's a list of fun shit you can do when you're stranded at home. 
2 Pinoy pride! The trailer for the highly-anticipated broadway reboot of Miss Saigon has been released and it looks even better than we imagined. We got major goosebumps while watching Fil-Am lead actress Eva Noblezada (Kim), Rachel Ann Go (Gigi), and Jon Jon Briones (The Engineer) belt out tunes from the musical. We're still crossing our fingers that they will have a Manila leg during their tour! Watch the trailer here!
3 Deniece Cornejo has slashed her wrists inside her detention cell to protest the dismissal of her rape case against Vhong Navarro. An official statement from her legal counsel read, "Deniece Cornejo slashed her wrist this morning to call attention to the injustice she is suffering from and as a symbolic protest against the July 11, 2014 anomalous dismissal of the rape case she filed against Vhong Navarro. She is presently in a state of depression and going [through] sleepless nights. She is still in shock why she, who is a victim of sexual abuse, is languishing in jail." Read the full statement on PEP.ph.
4 Stuck in a mall because of the rain? Head over to the cinemas and catch the first day showing of She's Dating The Gangster! You'll forget about the typhoon outside in no time.
Speaking of KathNiel, the "She's Dating The Gangster" star fronts the second issue of COSMO ON CAMPUS Philippines, coming soon to establishments near schools. You can also download your copy via BUQO, iTunes, or Zinio. Stay tuned for updates!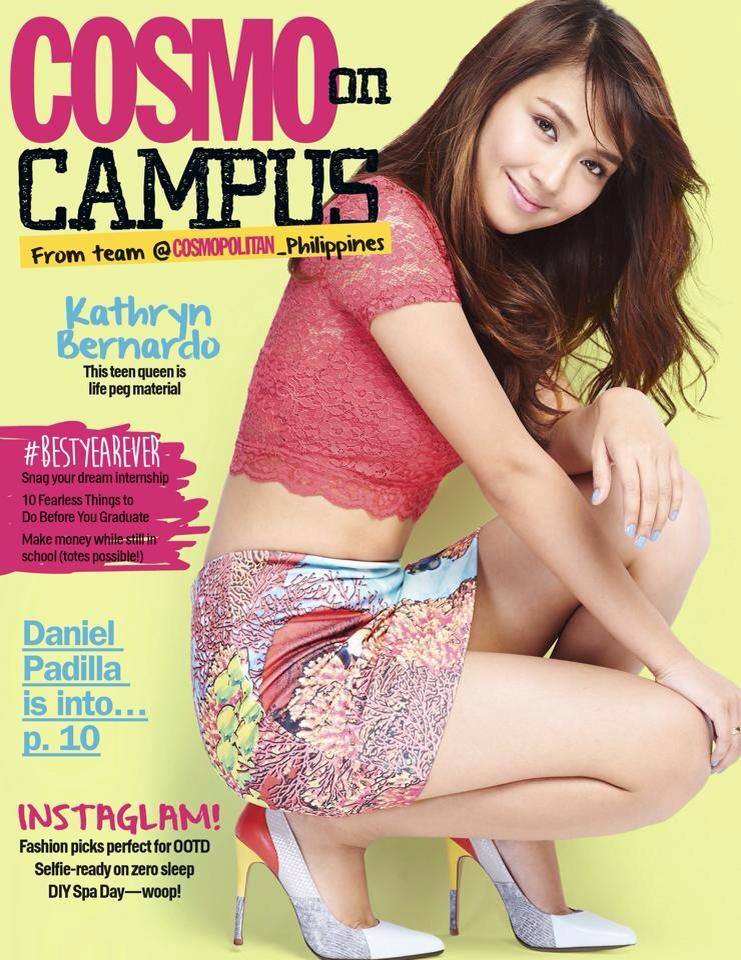 5 So, who do you want to share a Coke with? We're loving the brand's new personalized bottles! Check if your name is available in stores, or vote for your name to be printed on a bottle on the #ShareACoke app. Click here for more details!