Thanks to their naked paddle boarding holidays and surprise birthday parties, Katy Perry and Orlando Bloom became one of Hollywood's cutest couples. Now they've sadly called it quits, we look back at their 15-month history together.
January 10, 2016: Katy and Orlando are spotted catching up and looking flirty at the Weinstein Company/Netflix Golden Globes after party. According to Us Weekly, they even had a dance-off. "Katy literally dropped to the floor and was waving her booty around, beckoning Orlando," a source says. Their canoodling sparks rumors that Perrybloom is a thing.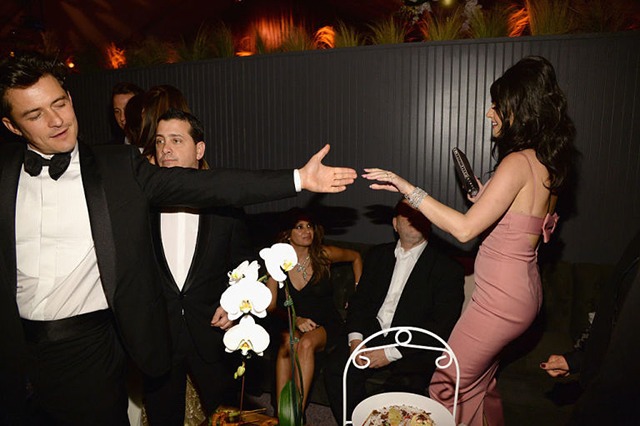 January 22, 2016: In the weeks following, the pair are seen together again several times, including at an LA performance of the play The Absolute Brightness of Leonard Pelkey. A photo shared on Instagram shows the couple having a blast, while standing safely apart.
February 12, 2016: The couple are seen getting close at an Adele concert, aka the best date location ever. A fellow concert-goer tells the Mail Online that the pair were in "high spirits" and kissed more than once. "At certain points Orlando would give Katy a peck on the lips but then would just carry on enjoying "Rolling In The Deep,"" said the source.
February 24, 2016: ET reports that the two are on holiday in Hawaii doing coupley things, like holding hands, hiking and making out on a bench. Pictures emerge of a shirtless Orlando and it's clear they are more than just friends.
April 2016: The new couple hang out at Coachella and fellow festival-goers report there was some serious PDA going on. "They came in about 20 minutes in to The Kills set," an eyewitness tells E! News. "They were hugging and with a group of other people. Orlando was behind her and swaying with her to the music. They also were vaping together. They were kissing and very much a couple."
May 3, 2016: Perrybloom attend The Met Gala in New York, but much to everyone's disappointment, they walk the red carpet separately. Still, they do manage to do one thing together. Inspired by the exhibit's theme, "Manus x Machina: Fashion in an Age of Technology," both decide to wear matching Tamagotchis. (Romance!)
May 20, 2016: It's official! After months of secrecy, Katy shares a picture of herself with Orlando at Cannes Film Festival. The photo shows the couple sprawled out on the staircase of a mansion with the caption "we cannes't". It comes a day after the duo tried very hard to play it cool for photographers at the amfAR Gala.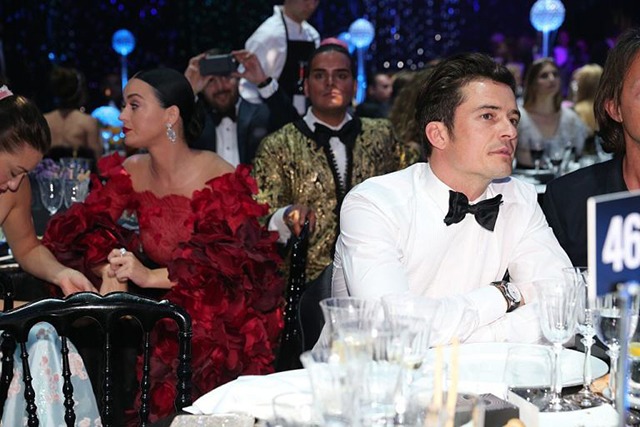 August 2016: Those paddleboarding photos start doing the rounds and suddenly, this relationship doesn't feel so private any more. During a relaxing getaway to Italy with Katy, Orlando strips naked before getting into the water to enjoy a romantic paddleboard ride with his girlfriend, who casually sips on a beer. NY Daily News releases the photographs, and of course, everyone starts freaking out.
THE DAILY STAR FRONT PAGE: "Blooming oarsome Orlando" #skypapers pic.twitter.com/YrwMX2IX0p

— Sky News (@SkyNews) August 3, 2016
October 2016: Perrybloom win at Halloween. Orlando and Katy, who campaigned for Hillary Clinton and performed at several Democrat rallies, decide to dress up as the as Donald Trump and his rival at Kate Hudson's party. And they don't mess around when it comes to making their costumes as realistic as possible. Reports say the singer spent hours having makeup and prosthetics applied.
November 22, 2016: Reports that these two are no longer an item first emerge. A source tells InTouch Weekly: "Not long after Halloween, Orlando confessed to pals that he'd decided to end their relationship. He claimed that he's just not ready to get married and have babies." Yet another source claims it was Katy who ended it. "She said they were on different life paths and as much as she likes him, it's time to move on," the insider said. Days later, they pair look like they had the greatest Thanksgiving EVER, which suggests they haven't split up after all.
January 2, 2017: Orlando kicks off 2017 by very publicly showing just how committed he is to his girlfriend. He takes Katy to Tokyo's Sanrio theme park to hang out with Hello Kitty. It must be love.
#PHOTO | "FIRST DAY OF 2017 IS ALREADY THE BEST DAY EVER" from @katyperry's instagram story pic.twitter.com/0AJiOiaVca

— Katy Perry Pics (@katyspics) January 2, 2017
January 15, 2017: In honor of Orlando's 40th birthday, Katy throws him an all-out surprise party in Palm Springs. And she really pulls out all the stops. The birthday boy gets treated to a cake topped with a life-size fondant owl on top and a surprise visit from his mom. She also arranges for guests to be given onesies printed with Orlando's face on the front. Best girlfriend ever.
#HappyBirthdayOrlandoBloom
Orlandobloom birthday party, Katy's Landoowl cake???????????? pic.twitter.com/gxJbQ9PGJ5

— orlandobloom_orli (@kaihuajuanjuan) January 14, 2017
February 26, 2017: Katy and Orlando are pictured together at the Vanity Fair Oscars party, but multiple sources report that they weren't as close as usual during the event. Despite Orlando sharing a cute photo with Katy's puppy to Instagram the next day, many speculate they have decided to take a break due to their recent time apart.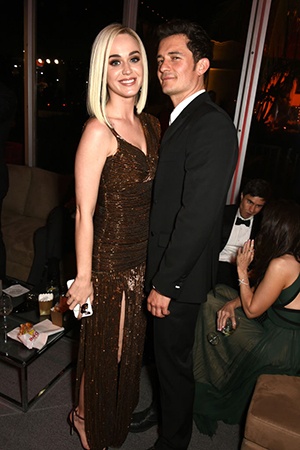 March 1, 2017: After over a year of dating, a statement from their reps confirms Perrybloom is indeed over. "Before rumors or falsifications get out of hand, we can confirm that Orlando and Katy are taking respectful, loving space at this time," the joint statement says.
***
This article originally appeared on Cosmopolitan.co.uk. Minor edits have been made by the Cosmo.ph editors.