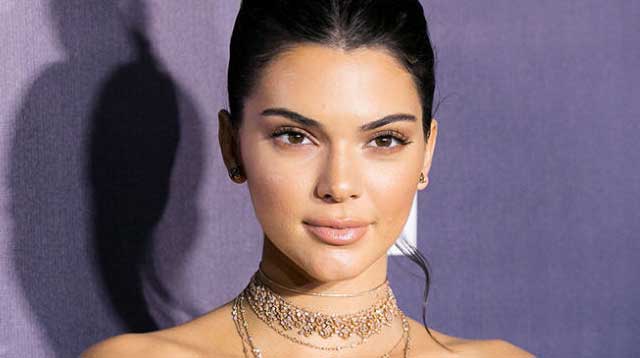 Kendall Jenner took to her app to shut down claims she's had plastic surgery, saying, "why would I?"
In November 2016, Kendall sparked speculation that she'd had lip fillers when she uploaded a picture to Twitter along with the caption: "getting ready to go live on Facebook for our book launch party! #TimeoftheTwins" with a distinctly fuller pout.
getting ready to go live on Facebook for our book launch party! https://t.co/7DuIq4XHgr #TimeoftheTwins pic.twitter.com/j7tSJfLG2w

— Kendall (@KendallJenner) November 22, 2016
Her sister Kylie Jenner, infamous for her large pout, later took to Snapchat to explain why Kendall's lips looked different, commenting: "You guys, Kendall let me over-line her lips today with lip liner and everyone thinks she got lip injections. I'm sorry, Kendall!"
And while the rumors of facial surgery have since died down, Kendall still wanted to shut the claims down on her app, writing:
"It's all so exhausting. As a model, why would I have my face reconstructed? It doesn't even make sense. It's crazy because sometimes I feel like people just want me to lose.
"I never wear lip liner or lipstick unless it's the occasional obvious red—and when I say never, I mean even when I'm doing a nude lip, it's basically just gloss! Anyway, I felt all of the makeup on because we were so rushed and I went out and did my thing... All of a sudden, photos of us came out with headlines like, 'OMG, Kendall got her lips done and got full facial reconstuction—look at her cheekbones, look at her nose!' I was like, this is CRAZY.
Kendall also went on to discuss how while she didn't speak out about the speculation at the time, she did go on social media to see what people were saying—at which point, she found an Instagram account dedicated to dragging down the Keeping Up With The Kardashians crew.
"I found this Instagram page devoted to Kardashian bashing and it has a lot of followers," she explained. "'It was upsetting me for me to look at because this person dedicated an entire page to just dissing the whole family and being like, 'These people suck'.
"People forget that they're talking about real people who have real feelings and actually live their everyday lives (for the most part) just like everyone else."
***
This article originally appeared on Cosmopolitan.co.uk. Minor edits have been made by the Cosmo.ph editors.
Recommended Videos