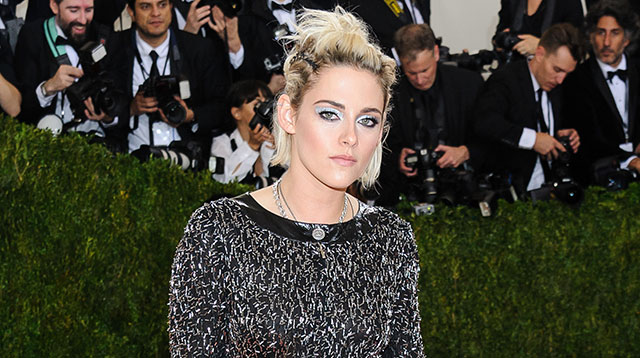 Actress Kristen Stewart has reportedly called off her romance with French girlfriend Stephanie Sokolinski.
The Twilight star, 26, went public with the new relationship in March, after she was photographed openly kissing singer/actress Stephanie, also known as Soko, on the streets of Paris.
Kristen, who is notoriously private about her personal life, did not comment on the new woman in her life, but Soko seemed to confirm they were a couple in a recent interview with W Magazine.
"I'm very, very, very in love and very happy in a relationship...," the 30-year-old declared, without mentioning Kristen by name.
However, it appears the romance is no more, with a source telling UsMagazine.com the pair has since parted ways.
Speculation of a split first surfaced earlier this week, when Kristen attended the Met Gala in New York City solo. She was later spotted hanging out with model friend Stella Maxwell, who was briefly linked to Miley Cyrus in 2015, at the official after party.
Ironically, Soko and her now-ex have previously dated the same man—the French star once enjoyed a blind date with Robert Pattinson, who was Kristen's co-star in the Twilight movies. "Robsten" split in 2013, months after the Hollywood actress' infamous fling with her Snow White and the Huntsman director Rupert Sanders in the summer of 2012 became public.
Robert is now engaged to British singer FKA Twigs, who he accompanied to the Met Gala on Monday.
Following the Twilight stars' break-up, Kristen was said to have embarked on a relationship with her personal assistant, Alicia Cargile, and she alluded to her bisexuality in a candid interview with Nylon magazine last year, when she was questioned about her personal life.
"Google me, I'm not hiding," the actress retorted.
"I live in the fucking ambiguity of this life and I love it," she explained. "I don't feel like it would be true for me to be like, 'I'm coming out!' I think in three or four years, there are going to be a whole lot more people who don't think it's necessary to figure out if you're gay or straight. It's like, just do your thing." 
Recommended Videos