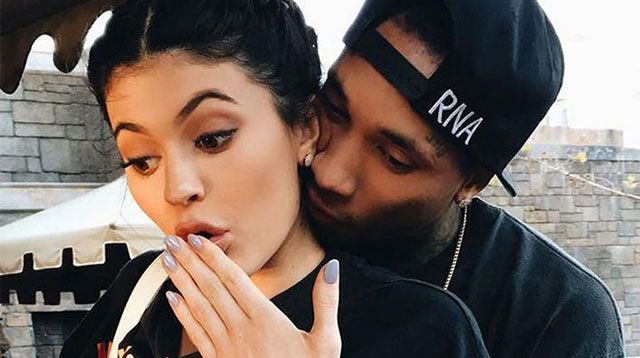 Tyga's Ferrari was repossessed yesterday after he failed to make payments on it, so obviously Kylie Jenner had to buy him a new car. And not just any wheels would do–the cosmetics mogul bought her man a Bentley, as she revealed on Snapchat.
In a series of videos, Kylie claimed that TMZ got it wrong and she was actually not there when Tyga's car was taken away. But she was at the car dealership as the website reported (to get him a new car), and when Tyga saw the stories, apparently it almost ruined the surprise.
"So, fake stories came out today. The blogs almost ruined it and said me and T were at the Bentley dealership when really it was only me," Jenner said.
"And I had to lie to T and say, 'I have no idea, T, what the story is. I was not at a Bentley dealership.' But I was!" 
Warning: the videos of Tyga dancing in front of his new car from Kylie may fill you with rage. Will this guy ever learn to pay his bills?
The car is worth at least $300K. You could take a lot of Uber Black rides for that!
Although, Kylie might have just been feeling generous after the rapper bought her a $250,000 car for her birthday. These two and their cars! It's how they show their love.
Somewhere, Kris Jenner is plotting. You can just feel it.
***
This article originally appeared on Cosmopolitan.com.au. Minor edits have been made by the Cosmo.ph editors.
Recommended Videos