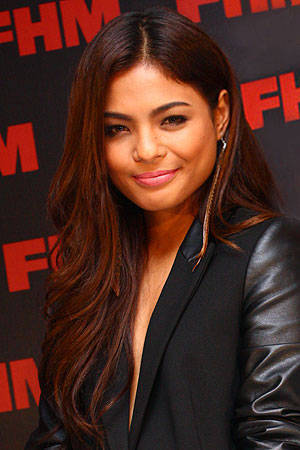 Every girl is sexy in her own way, but there are some women who just have that extra edge that makes us sit up and take notice. Lovi Poe is one of them. She commands our attention with her sensual charm and down-to-earth personality--an irresistible combo.

Lovi has said that confidence is what makes a person attractive, and she demonstrated her fearlessness once again when she flew to Thailand for a wildlife shoot with our bro mag, FHM Philippines, for their cover this month. The double cover issue, which has style icon (and former Cosmo Man On Fire) Derek Ramsay on the back cover, was a landmark for the men's mag, as Lovi was their first cover girl to be shot out of the country—with an elephant, to boot!

Lovi and Derek both attended the press conference for their FHM issue at the Crowne Plaza Hotel, where we got to chat with them about their covers. Read our Q&A with Lovi below (and watch for our one-on-one with Derek soon!)

What do you think makes a person sexy?

You won't be sexy automatically once you have a good body, it's not just about that. I think it's about the attitude and how you carry yourself in any situation, whether good or bad. I think, for me, it's not [just] about looking good.

What do you think is sexy about you?

I don't know, I don't get it either! (Laughs.) Honestly, I don't see myself as sexy. I have a lot of insecurities and I get easily bothered by them.

What's your biggest insecurity?

I don't have (gestures to her chest), but I'm fine with it. I like it. I think [I got over it because] I can wear anything I want. Look at me now! I can wear nothing inside [my blazer] and not feel bothered.

What tip can you give girls who want to feel sexy?

I think you should accept your flaws and work on them.

What do you do to stay in shape?

I don't know, I don't do much kasi. I'm very lazy; when I think na I'm really gaining weight na talaga, that's when I start working out. Siguro three days of running, and then I feel okay na rin, but then I'm very lazy. I think my stomach [is my favorite body part] kasi when I gain weight, last 'yung stomach ko.

What five things do you think every girl should have in her closet?

You need to have a perfect pair of jeans. Heels I think are very important, the most comfortable but very beautiful heels. Then, a perfect black dress. Fourth, beautiful lingerie. And nude bra and panties.

What qualities do you find most attractive in men?

I want someone who's adventurous, spontaneous, and outgoing, but mysterious at the same time.

Which actor would you love to work with?

A lot! Of course, there's John Lloyd [Cruz], Piolo [Pascual], Jericho [Rosales], Mr. Aga Muhlach...

What do you look for in a leading man?

You know what? As long as he's a good actor.

What's the greatest lesson you've learned from men in your past relationships?

They're all the same! (Laughs.) You should actually get to understand them. You should always have a sweet part of you and a sexy part of you. You shouldn't always be just one, you should be both.


Launch the gallery to see photos of Lovi from the FHM presscon!
Continue reading below ↓
Recommended Videos
1515