Lucy Torres and Richard Gomez will be celebrating 21 years of marriage this April, and through the decades, they've been our forever #couplegoals. On Valentine's Day, Lucy reminisced about the first time they shared a meal in 1993 for the first shooting day of the TV commercial that brought them together. 
At the time, 19-year-old Lucy didn't like carrots and Richard noticed that she had eaten everything on her plate except the carrots. He told her, "You don't like carrots? Try them, they're good for the body." Lucy recalls, "I ate every last bit, not really tasting them, just getting them down. I needed to do that anyway because, frankly, I couldn't breathe. I've loved you since I was 12, after all, and finally you were beside me. Real. Asking me to eat my vegetables."
Continue reading below ↓
Recommended Videos
She continues, "Plus earlier that day, on set indoors and under the light of the sun, your eyes were so beautiful, piercing. And I'd sometimes catch you staring at me, a little too long, a little too hard. Everything was a blur but you. Happy Valentine's Day, my love. And cheers to many more meals we shall share together."
For his part, Richard posted this gorgeous photo of his Valentine, asking her out on the special day.
He also made sure to treat his little Valentine well; check out this bouquet of yellow roses he got for their daughter, Juliana Gomez.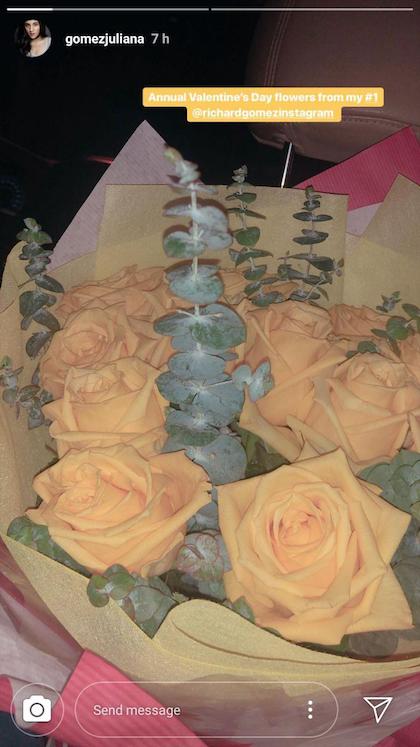 Follow Dyan on Instagram.
EXPLORE COSMO