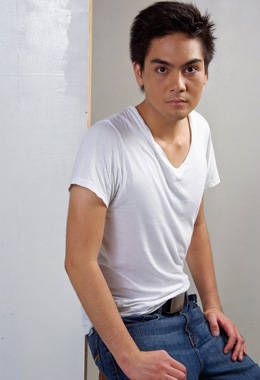 Marco Manalac received a great deal of showbiz attention after he appeared as Alan Strang in the local adaptation of the controversial play Equus.

His full frontal nudity in the play (Harry Potter star Daniel Radcliffe played the same role in 2007) immediately created a buzz in the industry, and with good reason. Few are willing to bare it all onscreen, let alone onstage in front of a live audience, night after night. But Marco doesn't want that to be the highlight of his performance.

The 21-year-old newbie actor says he wants the audience to remember him for his acting ability instead of the nudity. For him, getting naked on stage was easier than acting in Equus, which is his first professional play.

"Wala namang problema sa paghuhubad. 'Yung acting lang talaga, 'yung internalization, 'yun talaga ang challenge or fear ko. 'Yung nudity, hindi masyado," he says.

Because of his daring role in the local adaptation of Peter Shaffer's Equus, Marco has been receiving offers to do independent movies that will require him to take off his clothes in front of the camera. But he's still not sure if he's ready to accept such roles.

Marco's already contented with what he has done, particularly getting naked in front of many people. So, for his next project, he hopes he'll be given a chance to show what else he can do as an actor.

"I've been getting offers [for] mga nude roles, indie films, gay films, gay nudity. But I guess, for now, I wanna try something different. I don't wanna be stereotyped naman. I think this is the most that I can do, paghuhubad sa public—more than films, more than anything. I don't think I can top this."

Marco also stresses, "There's no other feeling like this, like being on stage, acting. Nothing can compare talaga with this experience."

And what would be his dream project?

"Sana superhero film. Gusto ko kasi ang Spider-Man. So, if the Philippines has a new superhero, that's my goal," he quips.

Launch the gallery to view some photos of this hot new actor!
Continue reading below ↓
Recommended Videos
618