I don't want a lot for Christmas, there is just one thing I need, and that thing is Mariah Carey's "All I Want for Christmas Is You" on repeat. This song embodies the spirit of Christmas to the point where Santa is rendered completely irrelevant. Like, mistletoe? Yule logs? Literal snow? It can all f*ck right off because Mariah is all that matters.
And thanks to residuals that are the Christmas gift that keeps on giving, Mimi is fully loaded. Her stocking is full of cash, she's on the Nice List every damn year, and Ebenezer Scrooge wishes he had her net worth. Speaking of, here's what Mariah has in the bank thanks to your—yes, you—listening to "All I Want for Christmas Is You" approximately 30 times a day.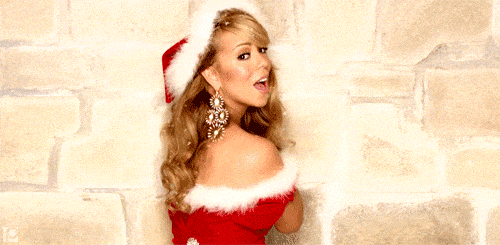 Continue reading below ↓
Recommended Videos
Let's Start With Her Christmas Cash
Mariah's aforementioned hit song "All I Want for Christmas Is You" debuted in 1994 and has since become an insane moneymaker. According to Nielsen (via Time), total digital streams for the song clock in at just under 229 million as of last year—and it broke Spotify's global single-day streaming record on December 24, 2018, surpassing 10.8 million streams. In other words, people (read: me) are obsessed.
According to The Economist, this gem earned $60 million as of 2018, and that number just keeps getting bigger.
Don't Forget All Her Other Music, Mmkay?
Unsurprisingly, Mariah has made most of her fortune thanks to an unbeatable combination of bops and jams. Did you know "One Sweet Day" was the longest-running number one single in U.S. history before Lil Nas X beat her record? NOW YOU DO.
According to the Recording Industry Association of America, Mariah has sold 66.5 million certified units in album sales—which is the same number as the freakin' Rolling Stones. And that's just her full albums. She's also sold 30 million certified units in digital singles. 

Reminder, She's a Touring Machine
Mariah has been on about a dozen tours and each one has earned millions. A top earner was 2006's The Adventures of Mimi Tour, which pulled in $27.9 million on the North American leg alone. Not to mention 2016's Sweet Sweet Fantasy Tour, which earned $30.3 million. I mean!!!
On top of that, Mariah had a Las Vegas residency from 2015 to 2017, which reportedly paid her over $30 million. Obviously, Mariah doesn't keep alllll this money (there are people and taxes to pay), but you better believe she takes home a large chunk of cash.
We Need to Discuss Her Endorsements, Plz
Mariah has been partnering with brands long before influencers were hawking Booty Tea (help), and her endorsements are legit. It's unclear what Mariah made for most of these deals, but let's see, she's worked with Claire's, Pepsi, and Motorola—and in 2007, she joined forces with Elizabeth Arden to create a perfume that earned her $150 million. Cool-cool-cool.
So, What's Her Total Net Worth?
According to Celebrity Net Worth, that'd be $300 million, but other slightly questionable corners of the internet have that number even higher—closer to $500 million. Honestly, when you're that rich, who's even counting?
***
This article originally appeared on Cosmopolitan.com. Minor edits have been made by the Cosmo.ph editors.