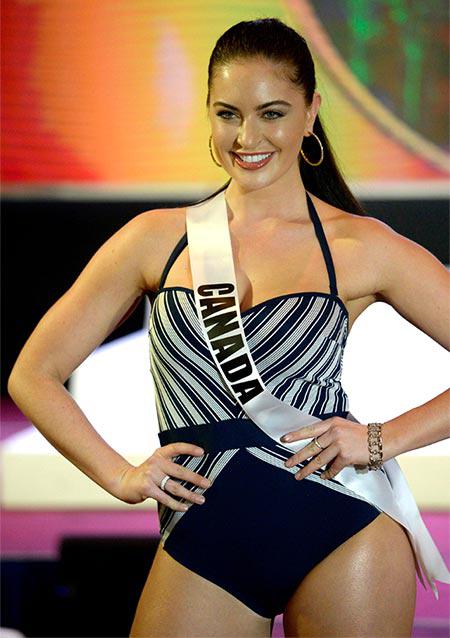 Miss Canada isn't here for your body-shaming bullshit.
After recently facing criticism on social media for gaining weight, Miss Universe pageant contestant Siera Bearchell took to Instagram to clap back at her body-shamers in the most glorious fashion.
"I was recently asked, 'What happened to you? Why have you gained weight? You are losing points,'" she wrote on Instagram. "This was a reference to my body of course. While I am first to say I am not as lean as I was when I was 16, 20, or even last year, but I am more confident, capable, wise, humble and passionate than ever before."
"As soon as I started to love who I was rather than always trying to fit what I thought society wanted me to be, I gained a whole new side of life," she continued. "This is the side I am trying to bring to the [Miss Universe] competition. The side of life that is so rare to find: self-worth and self-love. We always focus on the things we wish we could change rather than loving everything we are."
In another post, Siera went on to discuss her previous struggles with her body image, and opened up about how she used to restrict her food intake during pageants, something that made her feel incredibly unhealthy and unhappy.
"'It takes discipline to have the body of a Miss Universe,'" she begins. "It also takes discipline to be accepted into Law School. It takes discipline to run a marathon. It takes discipline to be true to ourselves in a world that is constantly trying to shape us into something we are not."
"People have asked me if I changed my body to prove a point," she continued. "No. Our lives are fluid, dynamic and ever-changing. So are our bodies. To be truthful, I restricted my food intake intensely at previous pageants and was miserable, self-conscious, and I never felt good enough. No matter how little I ate and how much weight I lost, I constantly compared myself to others and felt like I could still lose more. My mental perception did not match the physical body I saw in the mirror. There were days I would eat a protein bar, workout for hours and struggle to fall asleep because I as so hungry."
But over time, Miss Canada learned to love herself and her body because it was uniquely hers—something that she explains has made all the difference.
"My body is not naturally lean and that's okay," she wrote. "I am healthy. I am fit. I am confident. I am me. This is who I am right now and I'm okay with it, so you should be too. My fellow ladies, remember that true beauty, and validation start from within."
In yet another post, Siera put the nail in the coffin by making it crystal clear she couldn't be happier with herself and her body—adding that the Miss Universe pageant should be about so much more than narrow physical beauty standards.
"I am secure and that's what makes me beautiful," she wrote. "When you call me lazy, fat, and mediocre, what are you saying to the women of the world? Miss Universe is an organization built on the foundation of inclusion and diversity. It is no longer the 'beauty pageant' it used to be."
"The mission of Miss Universe is to provide the tools for women to reach their personal best and use those skills to serve others," she continued. "That's exactly what I am doing and I will not be brought down by shallow negativity. In fact, the negativity only fuels my fire to keep working on a platform that so evidently needs to be progressed. This journey has just begun."
Amen to that!
The Miss Universe pageant airs on Monday, January 30 at 8 a.m. 
Follow Gina on Twitter.
***
This article originally appeared on Cosmopolitan.com. Minor edits have been made by the Cosmo.ph editors.
Recommended Videos