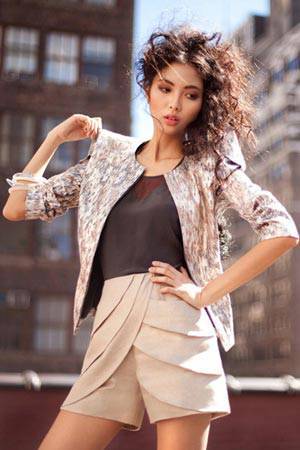 Through the years, the illusive world of modeling has produced some of the most sought-after faces, bodies, and yes, even brains!

That may be a tough pill to swallow for some who have been trying to get their foot in the biz, but indeed, there are a rare few who've broken countless barriers while bearing the title of "Top Model." Case in point: PMAP international top model, budding online entrepreneur, and one of Cosmo's 8 Sexiest Models of 2011, Ana Sideco.

Out of the many models I wanted to feature, I felt Ana's success story is really one worth telling as it can inspire many, despite the dreaded obstacles she faced in the dog-eat-dog fashion capital that is New York! Read about her modeling experience in my interview with her below.

How did you get started in modeling? What got you interested in the idea?

An agent walked up to me in a mall asking me if I wanted to model. At first I was hesitant, but then I agreed to go to their office. At that time, I was a freshman in college so I didn't really focus. It was only when model Marilen Faustino invited me to join PMAP that I started modeling full-time.

Standing at only 5'7" is generally unacceptable in model standards, especially for runway, yet you managed to make it far in the biz! Did your height discourage you?

Of course, at times I would feel very insecure about my height since I'm very short for a runway model. But over the years, I realized it has been an edge. It has been somewhat a title for me since I'm one of the shortest runway models that still do runway 'til now. They even [dubbed] me "The Kate Moss of the Philippines" since we're both the same height but it did not stop us from pursuing a career in modeling.

What are your most memorable jobs in Manila to date?

It's got to be the Avon campaign I did for Asia. I was actually already in New York that time, but a month after I arrived there, my agency in the Philippines informed me that I got booked to do the Avon Asia campaign so I flew back home. What's funny is that since the client is from Shanghai, China, they were like, kind of proud, telling the production people that they got a model from New York, only to find out that it's me. That was really funny. Another memorable shoot I had was shooting for Nigel Barker of America's Next Top Model when he first came here.

Tell us about your modeling stints in the U.S., such as your Avon campaign in Times Square. What other notable jobs did you do?

Some of the highlights of my modeling in New York include booking the Avon Fragrance campaign, shooting for MAC cosmetics, doing an editorial for U.S. Seventeen [Magazine], and gracing two covers of U.S. magazines: The Knot, which is a very popular wedding magazine, and Stitches, a magazine from Pennsylvania.

What's the difference between modeling here and in the States? How did you handle the competition there?

Modeling in New York is tough since there are literally hundreds of models there. But what's good is that they cater to diverse nationalities [so] there is always a [need for] an Asian model. What's good is that I am usually only competing with fellow Asians--unlike here in Manila, you compete with not only Asians, but also Brazilians, Russians, Spaniards, and the like. My look in New York is exotic, and there are only a few Asian models there. That's why I work better in New York compared to other Asian countries I have been to, namely Bangkok and Shanghai.

Another notable difference [between] modeling in New York compared to the Philippines is that they are more professional. The rates depend [on] whether it's a half-day shoot or a whole-day shoot. A whole-day shoot is only up to eight hours. [With] excess hours [we] are entitled [to] overtime fee per hour. There are some exceptions, though, like editorial shoots. The per day rate is usually for the catalogue work.

Which models do you take inspiration from?

Kate Moss is my inspiration. I like her since she is so tiny and short, but she was still able to command the fashion industry...She is one of the most in demand models of her time, creating a new era in modeling. She's beautiful, successful, and a fashion icon. What's not to like?

You're currently back in the Philippines and have started an online shopping site. What prompted that move?

When I was in New York, I loved to do online shopping. That's when I realized that in the Philippines, there are very few legitimate websites that cater to "real" online shopping. That's when my partner and I decided to open an online shop, www.DuHubShop.com.

They say that models are one-dimensional and dumb. What do you have to say about that?

I think people only say models are dumb because models rely mostly on their looks. Well, honestly, in this industry that is the sad case, that models really do have to rely on their looks. And sadly, there really are models who act dumb and who don't think much. But there are also many models who use their popularity and position to be successful outside modeling. There are those who put up businesses because of the connections they get as a model. There are also those who work in the corporate world as a sales manager, merchandiser, and the like because of the confidence, communication and people skills they get while being a model.

Why did you feel you needed to do more than modeling, considering you're doing really well?

I decided to put up my own business because I know that I cannot model forever. I will grow old, fat, and will have sagging skin eventually. I need something more stable in the future and something that I can rely on. This is where my education comes in. I graduated from De La Salle University with a degree in Computer Science. So, what better way to use my education and my modeling experience than to put up an online fashion shop? I was able to use my IT skills and my modeling background at the same time. That's how duHubShop was born.

How do you maintain your healthy skin and hair?

For my skin, I always put sunblock in the morning and moisturizer at night. I rarely wear makeup when I'm out, and I always remove my makeup when I get home from shoots or shows. And, I drink lots of water. I only drink softdrinks, juices, or teas when I'm out.

For my hair, I am guilty: I am so lazy to fix my hair that I only wash it then let it air dry. If it's frizzy, I apply hair oil to tame it. I sometimes get hot oil [treatments] if it's really dry.

What advice can you give to aspiring models?

Don't be afraid of rejection. Remember, modeling is 90% rejection. Even me, I don't always get the jobs. There is always someone better than you or prettier than you. Don't dwell on it too much. Just focus on yourself and on your assets. Know your best angles and work with them. Improve your runway walk and, most importantly, have a personality.
Continue reading below ↓
Recommended Videos