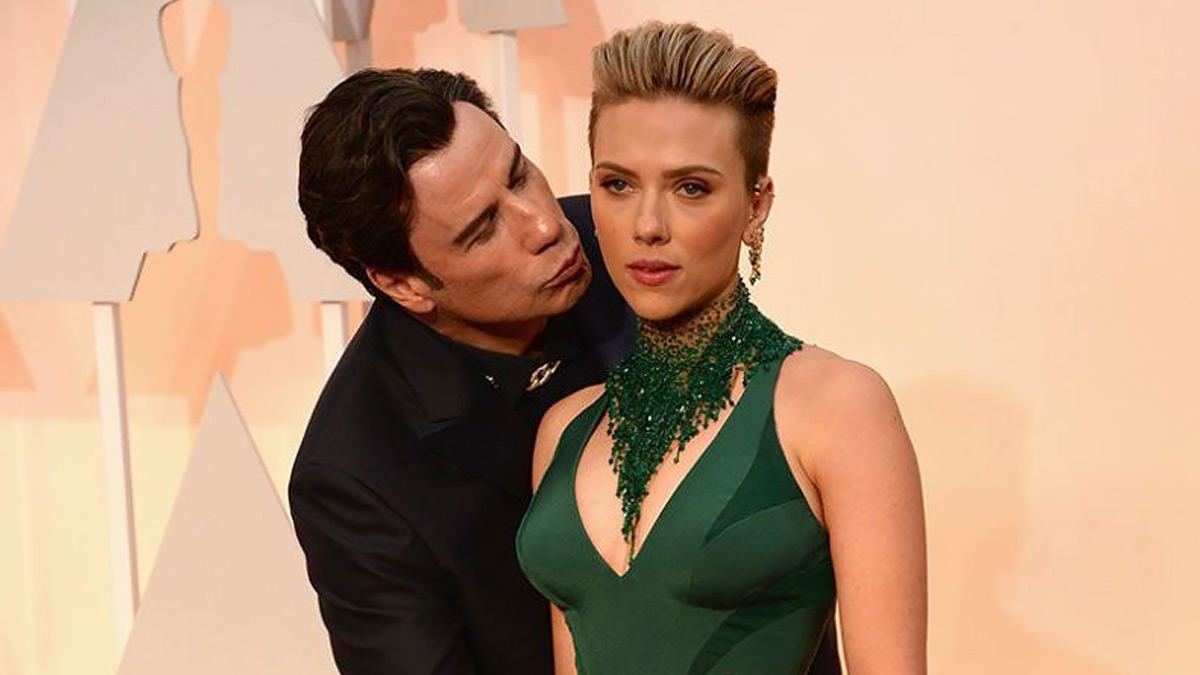 Gwyneth Paltrow's absurdly emotional speech in 1999

It's an emotional thing winning an Oscar, sure, but maybe take it down a notch next time Gwyn, yeah? Plus, the Shakespeare In Love star managed to mention every single member of her family—some twice in fact.




Angelina Jolie and her brother getting way too close in 2000

As if making out with him on the red carpet wasn't surprising enough, Ange said some weird stuff about him when she won the award for Best Supporting Actress in Girl, Interrupted.

 "I'm in shock, and I'm so in love with my brother right now," she giggled. "He just held me and said he loved me and I know he's so happy for me."




John Travolta trying to say "Idina Menzel" in 2014

Who the hell is Adele Dazeem? And if she's so wickedly talented, and such a one and only, then why have I never heard of her?



John Travolta (again) being weird af with Scarlett Johansson on the red carpet in 2014





Seriously, dude—can you not?

Jennifer Lawrence falling over in 2013

Maybe a cocktail dress would be a better choice for this year's ceremony, yeah? Less floofy material to trip over.

And again in 2014...




Sacha Baron Cohen aka The Dictator spilling ashes on Ryan Seacrest in 2012

Sacha's character General Aladeen carried a gold urn reportedly containing the ashes of former North Korean leader Kim Jong-Il, then spilled them all over Ryan, who wasn't best pleased about the whole thing.

Literally everything that Anne Hathaway and James Franco did or said while hosting in 2011

Seriously. Every single thing they did or said.

Bjork laying an egg on the red carpet in 2001

Yup, exactly.


 Brad Pitt, Angelina Jolie, and Jennifer Aniston in the same room in 2009

Brad and Jen called time on their five-year marriage in 2005 amid reports that he was, in fact, having an affair with his Mr. & Mrs. Smith co-star Ange, so the first time they all ended up in the same room was always going to be hella awkward. In 2009 both Brad and Ange were nominated, and Jen was presenting. Luckily Brad and Ange weren't sat right in the front row while she was on stage. Oh wait, they were.

We Saw Your Boobs in 2013

Seth MacFarlene aka the man behind Family Guy had a turn at presenting the Oscars in 2013, and it didn't go down great. Especially his song about actresses whose boobs he'd seen in films. Skip to 46 seconds in for a particularly pissed off Charlize Theron.

"Jesus" blessing Patricia Arquette during her acceptance speech for Best Supporting Actress for Boyhood in 2015





Okay, so it wasn't actually Jesus, it was Jared Leto, but you still feel pretty enlightened, right?
Follow Anna on Twitter.
***
This article originally appeared on Cosmopolitan.com/uk. Minor edits have been made by the Cosmo.ph editors.
Recommended Videos