Nadine Lustre has spoken up about an article written about her rumored breakup with James Reid, calling it "low." In her Instagram story, the actress called out entertainment editor and writer Ricky Lo and The Philippine Star after releasing a story about her supposed falling apart with James.
"First off, that was so low @therealrickylo @philippinestar. Second, none of what you said was true & [i]t is NEVER okay to use someone's mental situation/tragic past just to prove a point. Mental Illness is a very sensitive matter."
"[And] last[ly], you think you know so much [about] me, you can't even get my last name right. ANU NA, 2020 NA!!"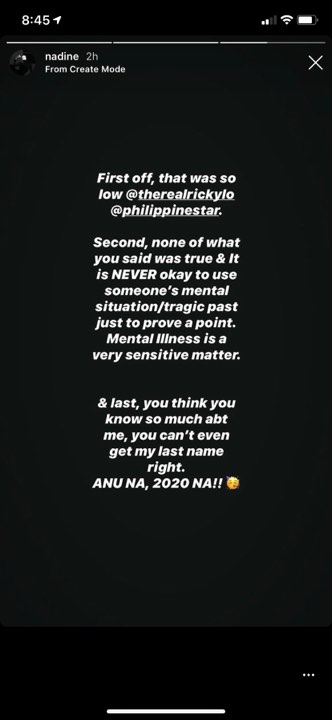 Nadine's reaction came immediately after her fans jumped to her defense and pointed out several mistakes in the article. In the printed version of the writeup, Lo made a reference to mental illness and mentioned Nadine's brother who she lost due to suicide. "According to a Star source, James is handling the breakup with care to cushion the impact on Nadine who has admitted grappling with mental illness (he has a brother who committed suicide)."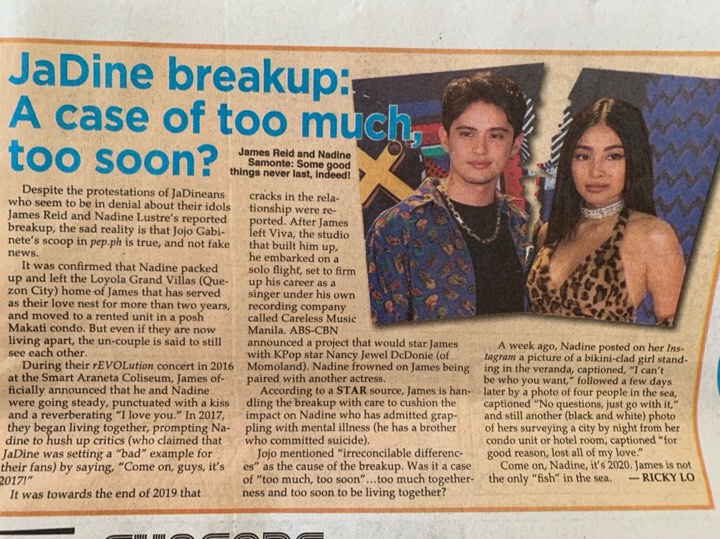 Continue reading below ↓
Recommended Videos
They also called him out for mistakenly writing Nadine Samonte (instead of Nadine Lustre) and for calling the love team's fanbase Jadineans instead of JaDine.
The said mistakes have already been edited in the online version of the article.
News broke about the real-life couple calling it quits after Nadine supposedly left the shared home she had with James and moved to a new Makati condo. Fans, however, jumped to their defense by showing photos of the two spending time together during Christmas and New Year's.
Follow Karen on Instagram.
EXPLORE COSMO