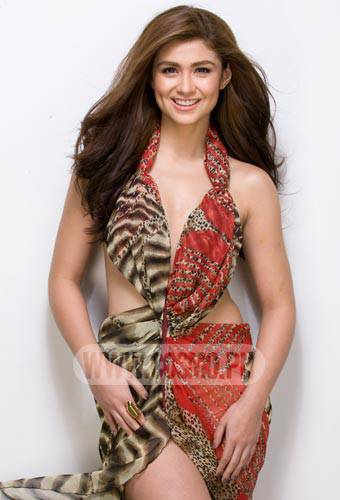 When it comes to fashion, two-time Cosmo cover girl Carla Abellana is truly fearless. Back in 2009, she playfully shed her good girl image--just for a while--to pose in sexy outfits for her "naughty girl"-themed cover shoot. This year, she goes edgy in the biggest trends for fall: animal prints, leather, silk, lace, and bold colors.

We made Carla try on several wardrobe options during the shoot--including draped wrap dresses, sheer frocks, and liquid leggings. All of them looked fab on Carla's slender frame, that's why it was sooo hard to choose what would make it to print! But, the outfit that ultimately made it to the November cover is the most ferocious of the bunch. Fashion director and stylist Ana Kalaw says of the cover outfits, "We were going for the animal-print theme. We decided to pair [the trend] with leather [because] we wanted to bring out a tougher side of Carla Abellana. She definitely rocked the look."

Not everyone can pull off such edgy pieces, but Carla was able to project a powerful, confident vibe in each of them. As editorial director Myrza Sison observed, "I think she wore [the trends] really well--she gave [them] a dose of sophistication and class."

Launch the gallery to see the outfits that made it to the magazine, plus the wardrobe options that Ana pulled out for Carla. Make this gallery your guide when you shop for items to cop Carla's Cosmo cover look this holiday season! Also check out the shoes and accessories we paired with the trendy outfits. View her behind-the-scenes video and photo gallery to see how well she wore them!

Grab a copy of Cosmopolitan Philippines' November 2011 issue with Carla Abellana on the cover to read her exclusive feature entitled "Bolder And Braver Than Ever" (flip to pp. 28-32)! Click on this link to view the e-magazine teaser!

1619
Continue reading below ↓
Recommended Videos