*June 2021 Update* 
Remember the ~disturbing~ 2009 horror film Orphan? It told the story of a couple (Vera Farmiga and Peter Sarsgaard) with two kids who decide to adopt a *sweet* European little girl named Esther (Isabelle Fuhrman). However, strange + unspeakable things begin happening to their family, and the film's ultimate plot twist was totally unexpected: Esther wasn't really a child, she was an adult woman with primordial dwarfism named Leena Klammer. Reports about a prequel to the movie called Orphan: First Kill have been circulating for years, and it's definitely happening! 
Here's everything we know about the new Orphan movie: 
What's the plot of Orphan: First Kill? 
According to The Hollywood Reporter, the prequel will delve into the origins of Lena Klammer: "Lena successfully escapes from a Russian psychiatric facility and makes it to America by impersonating Esther, the missing daughter of a wealthy family. But Lena's daring escape pits her against a mother who will protect her family at any cost." 
ADVERTISMENT - CONTINUE READING BELOW ↓
Who's in the cast? 
Isabelle Fuhrman 
In November 2020, Variety reported that Isabelle Fuhrman will be reprising her role as Esther/Lena and that she will be an associate producer of the film. Isabelle also shared the news on Instagram, writing, "Something is STILL wrong with Esther! Needless to say...I am so pumped!"
Julia Stiles
10 Things I Hate About You star Julia Stiles will also be part of the prequel, as a mother "who will do whatever's necessary to protect her family." In an interview with Collider, Julia talked about what compelled her to join the movie, saying that even though she's not into horror movies, the script was SO GOOD: "And the script was so dang good, I couldn't put it down and I was so surprised by the twist that I'm not gonna give away that I think you'll like it."
She added: "It's incredibly psychological. I'm not really interested in blood and gore. I find it gross, but I don't find it really scary. What I find scary is the stuff that happens up here. And Isabelle Fuhrman's character, Esther—although she has multiple names, Leena, I don't know—it's just such a fascinating—especially now because she's a grown-up. She's 23 now playing the same part. It's just such a fascinating sociopathic character, along the lines of why Norman Bates was so interesting to watch."
ADVERTISMENT - CONTINUE READING BELOW ↓
Here's a fun photo Julia shared from the set: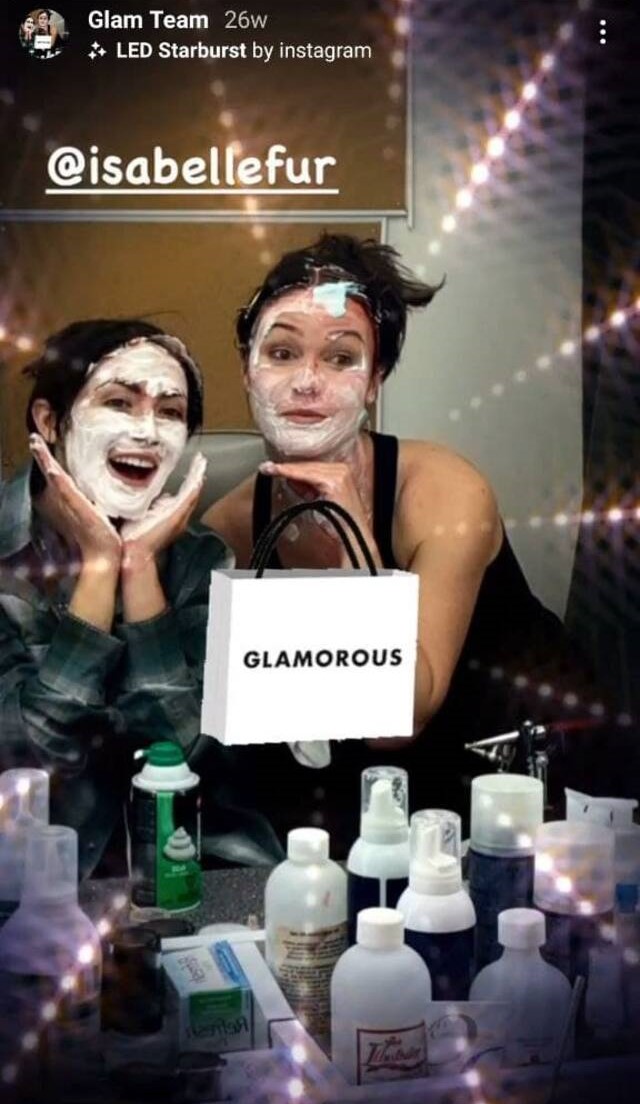 So, how did the production team make Isabelle look ~younger~? 
Isabelle, who is now in her twenties, was around 12 years old when she starred in Orphan. How will this work though, now that she's not a kid anymore? According to Deadline: "In order to help Isabelle bring her character to life again, filmmakers are utilizing a combination of forced perspective shooting and a world-class makeup team." The film's director William Brent Bell said they won't be using CGI at all. 
ADVERTISMENT - CONTINUE READING BELOW ↓
Is there a release date for Orphan: First Kill? 
Not yet, but here's to hoping it'll be released in 2021! They shot Orphan: First Kill in Winnipeg, Canada, and in December 2020, Isabelle shared ~bloody~ photos of herself on set, and confirmed that they've almost finished filming the movie! She wrote: "Shaving cream showers and a whole lot of fake blood...this is our last week on #esther." 
Fans have also been compiling behind-the-scenes pics from the movie, and based on Twitter, it looks like Orphan: First Kill will be as ~bloody~ as the first one!
ADVERTISMENT - CONTINUE READING BELOW ↓
If you're super hungry for Orphan content, you can read up on a bizarre adoption case that eerily mirrored the film's plot here. 
***
We're officially on Viber! Be part of our growing community and subscribe to Cosmopolitan Philippines now!
Follow Lily on Instagram.
EXPLORE COSMO