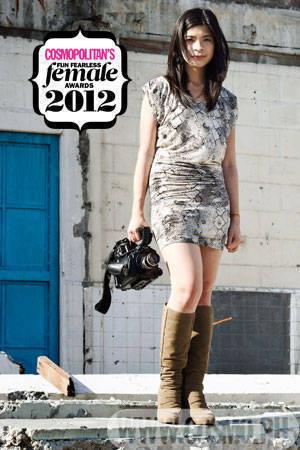 Behind every news story is a journalist who worked hard to report the facts. But some journalists go above and beyond the call of duty and strive to actively search for people whose stories need to be told. Fun, Fearless Female Awardee 2012 Pat Evangelista is one of them.

The 26-year-old entered the public eye when she won an international public speaking competition in London back in 2004, and she has since moved on to work as both a TV host and broadsheet columnist. Today, she considers herself a human rights journalist, producing award-winning documentaries for the weekly program Storyline. Through the film medium, she allows controversial subjects and everyday survivors to tell their own stories of hope and the strength of the human spirit.

We met the daring young woman for her photo shoot outside the Summit Studio, and she brought along her trusty storytelling tool: her video camera. Launch the gallery to see behind-the-scenes photos from our shoot with Pat Evangelista.


To see the rest of the Fun, Fearless Female Awardees, grab the May 2012 issue of Cosmopolitan Magazine with ANNE CURTIS on the cover, in stands NOW! Virtually flip through our online teaser of this Collector's Edition!
Continue reading below ↓
Recommended Videos
1971